How to resize SBS 2003 system partition without reinstalling
Many server administrator thing it is too hard to resize a SBS 2003 partition, don't worry, I'll introduce how to resize SBS 2003 system partition in an easy way without losing data or starting over.
Small Business Server 2003
Windows Small Business Server (SBS) is an integrated server suite from Microsoft designed for running network infrastructure of small and medium enterprises having no more than 75 workstations or users. Windows Small Business Server is technically not an 'edition' of the Windows Server operating system but rather a customized SKU of server technologies targeted specifically at small businesses.
SBS 2003 is based on Windows Server 2003 and includes Microsoft Exchange Server 2003, Microsoft Outlook 2003, Windows SharePoint Services 2.0, and optionally Microsoft SQL Server 2000, ISA Server 2000 and Microsoft FrontPage 2003 in Premium edition; allows 75 client licenses. In Small Business Server 2003 R2, upgrade Microsoft SQL Server 2000 to 2005 Workgroup Edition.
Editions are divided into Essentials, Standard and Premium.
Comparing with Windows Server 2003, SBS 2003 has many limitations, however, file system and disk partition structure keeps the same, so it is the same to resize SBS 2003 partition.
Resize SBS 2003 system partition
The same with other Server editions, the typical disk space problem on Windows SBS 2003 is that system C: drive runs out of free space. When there is no free space left in C drive, Windows pops up an "Low Disk Space" altert at right bottom corner and ask you to free up disk space.
Most people click this alert and try to free up space with Windows cleanup utility, however, wasting a long time you cannot get much free space and very quickly this altert pops up again.
To solve this problem completely, you need to resize the SBS 2003 partitions and increase the system partition size. After this, change the way you use this computer, for example: change the default path and other settings of your applications.
How to resize SBS 2003 partition
Step1, launch partition assistant server and you'll see all disks and partitions that connected to the SBS 2003 server.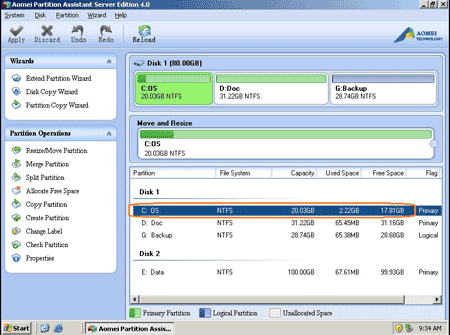 Step2, right click partition D: and select "Resize Partition", in the pop up window drag the left border rightwards to shrink this partition.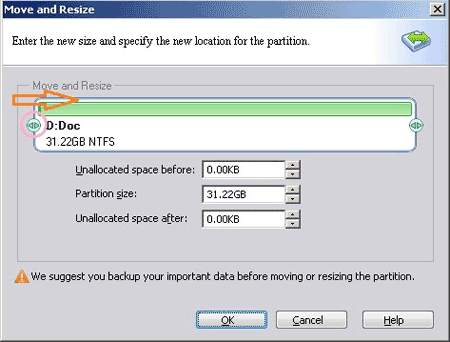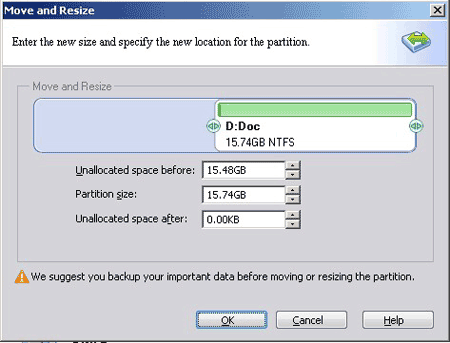 Click OK and back to main window, you'll see 15.48GB free "Unallocated" space created behind the system partition.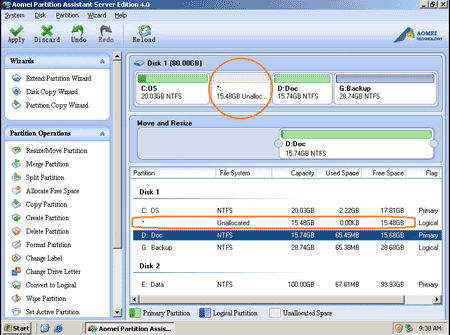 Step3, right click the system partition and select "Resize Partition", in the pop up window, drag the right border rightwards to hold the 15.48GB free Unallocated space.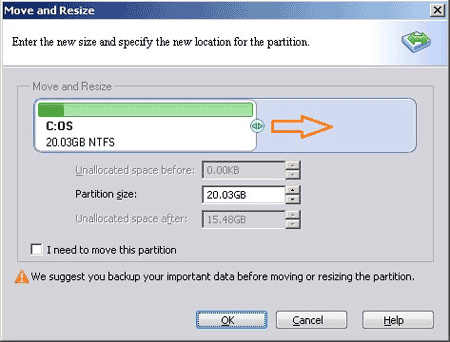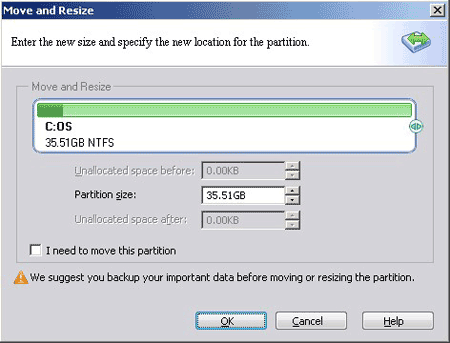 Step4, click OK and back to main window, press "Apply" button on top left corner to proceed. Within several minutes to half an hour (depends on how many files in partition D), the SBS 2003 partitions resized and the system partition size increased from 20.03GB to 35.51GB.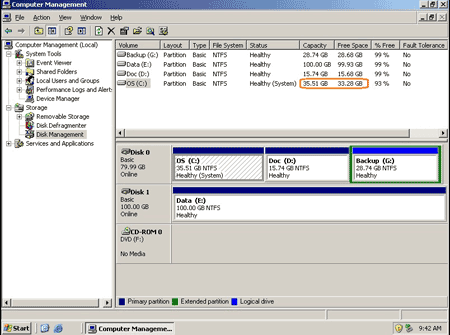 If you want to resize non-contiguous partitions (such as drive G: above), the method above is a bit complicated, there is an easier way to resize SBS 2003 partitions - "Allocate Free Space".
Benefits to resize SBS 2003 partition with partition magic server
With built-in enhanced data protection technology, this partition magic server software is not only reliable itself, but also integrated Disk & Partition Copy Wizard, Partition Recovery Wizard to ensure 100% data security. Your data keeps intact while resizing partitions.
It provides several ways to resize server partition, select the proper method the task to resize sbs 2003 partition becomes much easier.
This SBS partition software is not only a server partition resizer, but also a disk partition management toolkit that helps you improve server performance. It helps you rebuild MBR, convert between Logical and Primary partition, convert between GPT and MBR disk, create WinPE boot CD, change partition type, align partition and much more. (learn more)
Download trial to check or purchase online and begin to resize the sbs 2003 partitions.