How to resize SBS 2011 system partition
Currently, Windows SBS 2011 is the latest Server edition from Microsoft, which is based on Windows Server 2008 R2. When installing SBS2011, you have no option to edit disk partitions and two partitions created automatically after installing. If you want to create more partitions, that's easy, just shrink the second drive with "Shrink Volume" feature under disk management and then create new partitions with the Unallocated space, but you cannot resize sbs 2011 system partition.
You can get free unallocated space from the second partition via shrink feature, but you cannot add the free space to system volume, when you right click the system C drive "Extend Volume" feature is grayed out, then what to do?
You need a server partition software that works like Partition Magic, so you can resize sbs 2011 partition without losing data or starting from scratch. (Symantec partition magic isn't compatible with Windows Server 2003 and the later editions.)
Aomei Partition Assistant is such partition magic server software, which provides several ways to resize sbs 2011 partitions fitting for different disk partition layout. Here I introduce the easiest way to resize sbs 2011 system partition.
Firstly, open Disk Management (right click My Computer > Manage > Storage > Disk Management) and check disk partition structure. Because no partitioning software is able to taking free space from another physcial hard disk drive, by opening disk management you'll know which drive can be shrank to extend the system volume.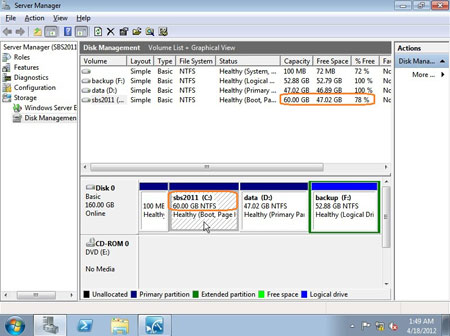 Disk partition layout in disk management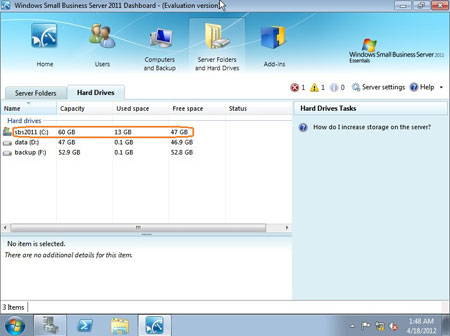 Partition properties in SBS 2011 dashboard
Steps to resize SBS2011 system partition
Step1, launch partition assistant server, right click partition F: (or D:) and select "Allocate Free Space".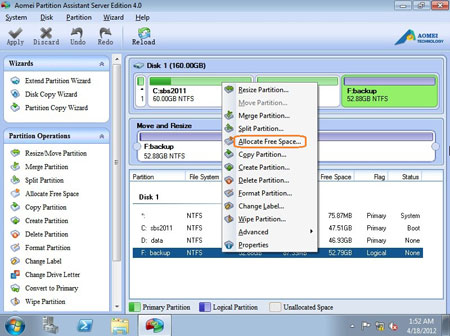 Step2, in the pop-up window, specify the amount of free space to take from drive F: (press up and down arrow or input a value directly) and then select the sbs2011 system partition C: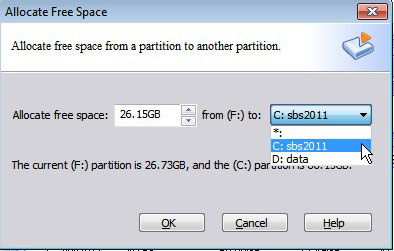 Step3, click "OK" and press "Apply" button on top left toolbar in main window to proceed. In a short time, partition resizing complete and the system C: drive space increased to 86.15GB.
Within few steps you can resize the sbs 2011 partitions without formatting or doing anything else.
If you cannot get enough free space from any one of the data drives, there's still way to extend the system partition. "Extend Partition Wizard" feature helps you shrink 2 or all data volumes at the same time.
If there are no free space in all data partitions, there's solution, too. Just clone this hard disk to another larger one with "Disk Copy Wizard" feature, so you can extend the system partition or any data drive with the extra disk space.
Besides SBS 2011, there may be other servers that are running Windows Server 2003, 2008, you just need one copy of the Unlimited Edition (allows unlimited installation in your organization).
Download trial or purchase full version to resize sbs 2011 partitions now.