Server partition magic software for Windows Server 2008 and R2
My C drive runs out of space and only 500MB free space remaining, I've tried partition magic, but it cannot be installed on this server, does anyone know other partition magic for server 2008?
We have a 2008 server enterprise and the c drive is full, is there a partition magic software for Windows 2008 Server?
Many people don't know what to do when system C drive becomes full, as Partition Magic from Symantec isn't compatible with Windows Server 2008 and R2. Don't worry, PMS Partition Magic Server helps you solve these problems fast and easily.
Why partition magic server software is needed
Better than previous Windows Server editions, Windows Server 2008 disk management snap-in integrated "Shrink Volume" and "Extend Volume" feature, which can be used to change partition size. However, it is still impossible to extend system C: drive by shrinking a data volume. To increase system partition size without 3rd party partition manager software, the only choice is deleting drive D.
With PMS Partition Magic Server, there are no such limitations, you can shrink and extend any partitions within few steps.
What does Partition Magic Server do
PMS Partition Magic Server is an all-in-one disk partition management toolkit that helps you optimize server disk space usage and improve server performance. Basic features to Create, delete, format partition, etc. Advanced disk partition management features to resize partition, shrink partition, extend partition, split and merge partitions without losing data, hide/unhide, set Active partition, convert between Primary and Logical Partition, etc.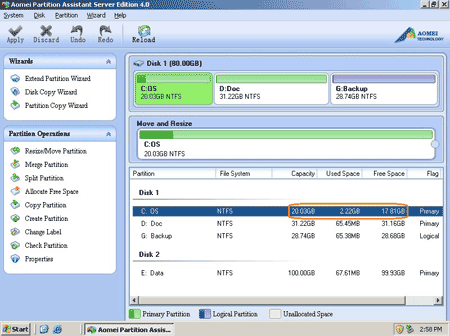 Supported Windows Server 2008 editions
Windows Server 2008 Standard Edition, Enterprise Edition, Datacenter Edition 32 and 64 bit
Windows Server 2008 R2
Windows Web, Storage Server 2008 x86 and x64
Windows Small Business Server 2008
Supported storage medias
Hard disk drive (HDD) with IDE, SCSI and SATA interfaces
Solid state drives (SSD)
External FireWire (IEEE-1394) hard disk
All types of SCSI, IDE and SATA RAID controllers
All hardware RAID levels, such as RAID 0, RAID 1, RAID 5, RAID 10, etc.
Hyper-V, Virtualbox, VMware virtual machines
Removable USB flash drive, memory card, memory stick, etc.
MBR (up to 2TB) and GPT (up to 4TB) disk
Unique features of this partition magic server 2008
Enhanced Data Protection technology to ensure data intact while repartitioning.
Hot Resize technology to extend NTFS system partition without rebooting server.
Virtual mode of execution - Preview any partitioning tasks before apply to the disk. Learn more...
With its absolutely user-friendly interface, the functions of this partition magic server for Server 2008 are easy to get access to, no professional assistance is required. Within several minutes to half an hour, you have a "new" server without doing anything else.
Download free trial of this partition magic server and check how easy it is to manage your server 2008 disk partitions.
Step-by-step guide