Server Partition Magic alternative for Windows Server 2008/2003/2000
System partition of your Server running out of space and need to resize or extend the C drive? Looking for Server Partition Magic or Partition Magic Server Edition? Don't worry, in this article, I'll introduce Server Partition Magic alternatives and how to solve Server low disk space problem by resizing partitions.
What is Partition Magic?
Partition Magic is originally made by PowerQuest corporation, it is the first and most famous hard drive partitioning program that can help you resize and modify existing partitions without data losing. Partition Magic ran on Microsoft Windows operating systems (only 2000 and XP, not Vista or 7) or from a bootable CD-ROM.
Can I use Partition Magic on Windows Server?
Server Magic is the Server edition of Partition Magic from PowerQuest. It has the ability to create, format, delete partition, resize or merge partition without losing data on Windows Server. Server Magic works like Partition Magic and the only difference from Partition Magic is that it runs under Server Edition of Windows NT and 2000. But since being acquired by Symantec, Server Magic has not been upgraded. So it is not possible for Server Magic to extend, resize server partition under any advanced Operating System, such as Windows 2003, 2008, etc. You need Server Partition Magic alternative.
Server Partition Magic Alternative
Since Server Magic is not available for Windows Server 2003, 2008, then how to choose right software to resize or extend your Server partitions? Luckily, there are several Server Partition Magic alternatives for Windows Server 2008, 2003, such as Partition Assistant Server.
As Server Partition Magic alternative, all these Server partition software provides the feature to resize, extend, create, format, delete partition, etc. You can repartition your Server without losing data.
Comparing with Server Magic, Partition Assistant Server supports more Operating Systems. It is compatible with Windows Server 2000/2003/2008 and desktop 2000/XP/Vista/Windows 7 (32/64) bit systems. All kinds of Hardware RAID array are also supported.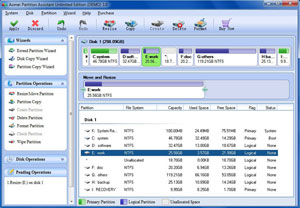 See more detailed features of Partition Assistant Server Edition
Main benefits of these Server Partition Magic alternatives
Resize, Merge/Extend Partitions to solve system drive "low disk space" problem fast and safely.
Enhanced data protection technology - resize, merge partitions without losing data.
Hot Resize - extend NTFS partition without rebooting Server or interrupting your work.
Disk/Partition Copy to backup data or migrate to another disk without reinstalling Windows.
Changes made on partitions can be previewed before applying to the hard disk.
With user-friendly interface, no professional assistance or experience in using Partition Magic required.
You may download the demo of these Server Partition Magic alternatives and see how it works for your Servers.