How to extend partition on Windows Server 2003 32 bit and 64 bit?
In the beginning, let's see a real problem of Windows Server 2003:
I am using Windows Server 2003, the system C drive is running out of space and low disk space warning pops up regularly. However, the Operating System Disk Manager will not allow me to extend C drive. I can only use the new disk capacity to create a new partition. Unfortunately, Microsoft Partner Support says I can only extend Windows Server 2003 system partition by deleting the partition, recreating the drive and reinstalling the Windows Server 2003 Operating System or turning to a third-party solution. But I am not told which third-party solution I may use.
How to extend partition on Windows 2003 Server?
The fact is you cannot shrink or extend partition in Disk Management under Windows Server 2003. You may try Diskpart.exe, which is a text-mode command interpreter that enables you to manage objects (disks, partitions, or volumes) by using scripts or direct input from a command prompt.

Note: To extend partition Windows Server 2003, there must be some unallocated space behind the system partition. Otherwise, you cannot extend partition on Server 2003.
With partition magic server manager, you can resize partition or merge partitions to extend partition on Windows 2003 Server very easily.
Extend partition on Server 2003 with professional partition manager software
As the best Partition Magic Server alternative, Partition Assistant is an ALL-IN-ONE and awards-winning Windows partition solution and reliable disk management toolkit. It performs needed hard disk partition maintenance, provides powerful data protection and disaster recovery, and minimizes server downtime to increase the efficiency of Windows-based system administration.
Some of its functions include: Resize and Move partitions, Merge Partition, Copy Partition, Copy Disk to protect data, Create, Delete and Format partitions, Convert partitions, Hide and Unhide partitions and much more.
The most important feature of Partition Assistant to extend partition on Server 2003 is the enhanced data protection technology, with which you can extend Window 2003 Server partition without data losing.

With Hot Resize feature, you can extend NTFS boot partition without rebooting computer.
How to extend Server 2003 partition without deleting or formatting
Step 1, Launch Partition Magic Server, you'll see all disks and partitions that connected to your Server and free space, used space and other properties of each partition.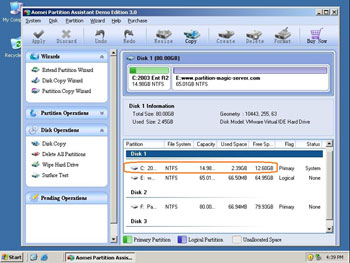 Right-click the data partition and select "Resize", in the pop-up window, drag the left border rightwards to shrink it.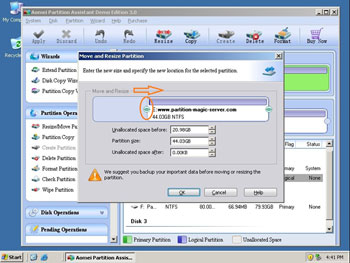 There will be some Unallocated space behind the system partition.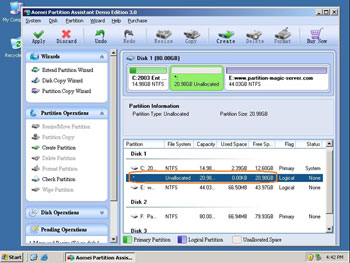 Step 2, Right-click the system partition and select "Resize", in the pop-up window, drag the right border rightwards to hold the Unallocated space.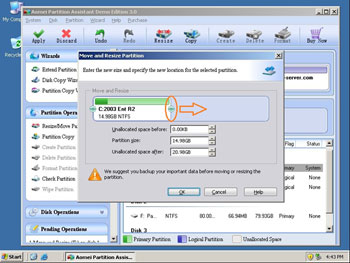 Click "Apply" to proceed, done.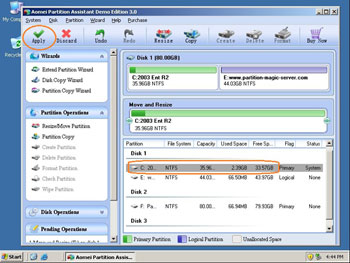 Now you have a "new" Server that can be used for a long time again.
How to allocate free space from any data partition and add to C drive?
For enterprise users, Unlimited Edition allows unlimited usage within your company to save time and money.
Related Articles