How to increase C: drive space without losing data?
When the free space in system C: drive is insufficient, you can increase its space by taking unused space from other data drives. By this way, you can fix the low free disk space issue much fast and keep the server running smoothly. In this article, I'll introduce how to increase C drive space in Windows Server 2003 and Server 2008 R2
Low Disk Space in Server 2003/2008
After running the server for a period of time, most of server administrators encounter the same issue that system C drive is running out of free space and Low Disk Space warning pops up, even if you created a large C drive when building the server. It is easy to understand, in Windows platform, updates, applications, temp files, cache and other kinds of files write to C drive continuously, sooner or later, the free space will be eaten up. In this situation, freeing up disk space can do little help, to completely solve this problem, the best idea is increasing C drive space.
What do you should know before repartitioning?
The partition(s) that is used to increase C drive space should be in the same hard disk, no partitioning software can resize partitions beyond two physical disks.
If you use VMware, install the partition software to VMware and the steps to resize partition keep the same.
If you use hardware RAID array (RAID 0, RAID 1, RAID 5, RAID 10 .etc), do not break the array or do any operations in raid controller, the steps are the same with resizing physical disk partitions.
Ensure server OS and data safely, back up before any operations to a server, and select a reliable program to repartition disk.
How to increase C drive partition size?
To resize partitions and extend C drive, you may try Windows built-in utility or 3rd party software. I always recommend using 3rd party professional software, because Windows built-in utility has many limitations.
Increase C drive space in Windows Server 2003
In Windows Server 2003 (R2) Disk Management console, you can only do basic management to create, format, delete partitions. To resize disk partitions, the only choice is diskpart command. Precondition to increase C drive with diskpart include:
Run diskpart command from bootable CD/DVD. (data drives can be extended in Windows CMD)
Only when there is adjacent Unallocated space, you can increase C: drive.
If you have no such environment, stop and jump to the last method.
Boot from CD/DVD and open command line, type diskpart and press 'Enter'.
Type "list volume" to display the existing volumes on the computer.
Type "select volume X", X is the number or drive letter of C drive.
Type extend.
Increase C drive space in Windows Server 2008 (R2)
Better than server 2003, in Windows Server 2008 you can expand C drive with GUI function in Disk Management. Simply right click the drive you want to expand and select "Extend Volume" feature, finish the steps in Extend Volume Wizard. It is not hard to operate, but the same with diskpart command, to increase C drive space, there must be adjacent Unallocated space.
Some people try to shrink D and expand C with "Shrink Volume" and "Extend Volume" function, but failed, because the Unallocated space shrank from D is not contiguous to C, of course, it is impossible.
Easiest way for all Windows Servers
With 3rd party software, there are no such limitations, you can resize partitions much easier. Here I recommend the EASIEST way to increase C drive space by taking unused space from other data drives.
Step 1: Download and install NIUBI Partition Editor, right click drive D: and click "Resize/Move Volume".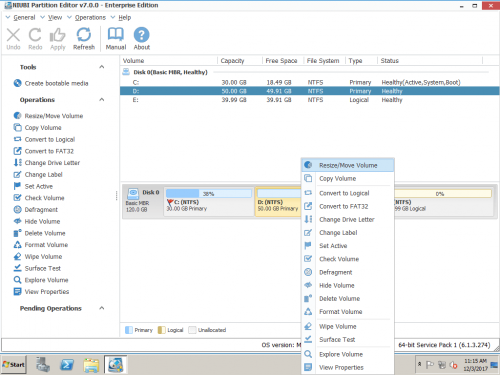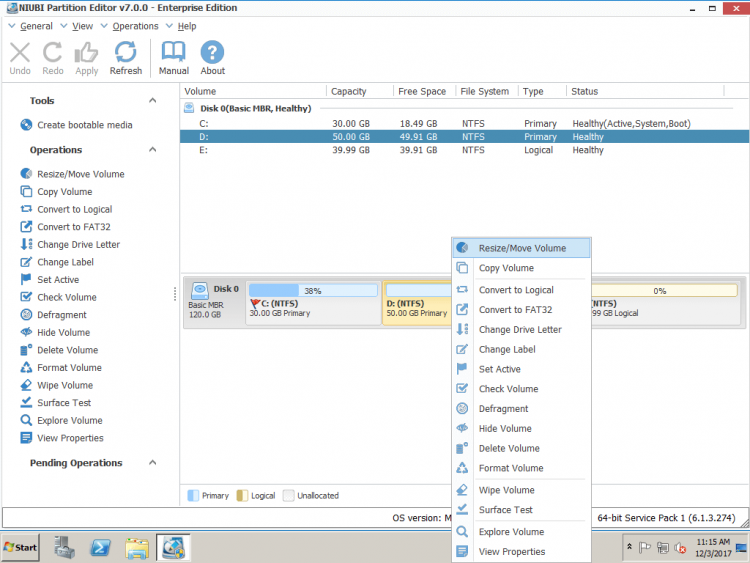 Step 2: In the pop-up window, drag the left border rightwards to generate free Unallocated space.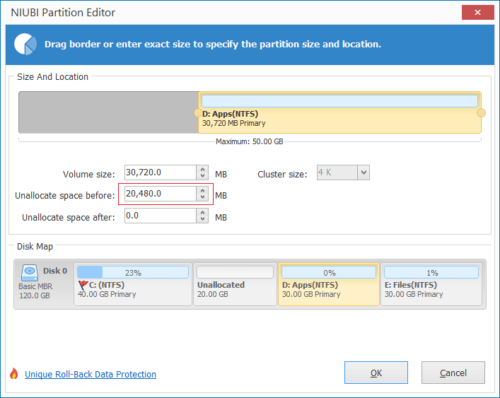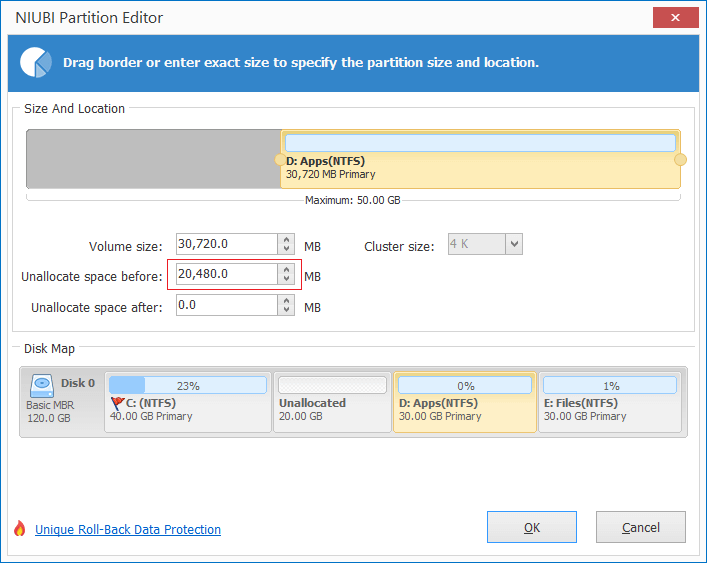 Click OK and back to the main window, where 20GB Unallocated space created behind C: drive.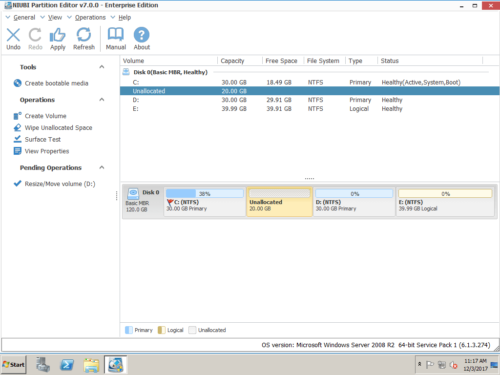 Step 3: Right click C drive and select "Resize/Move Volume" again, in the pop-up window, drag the right border rightwards to hold the Unallocated space.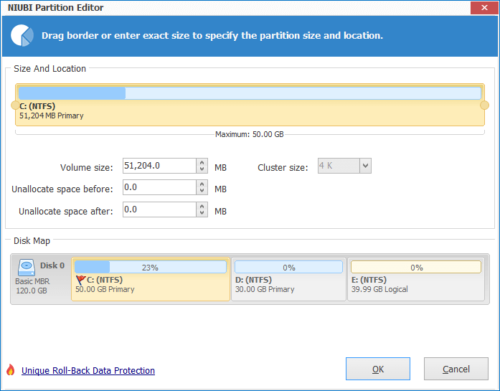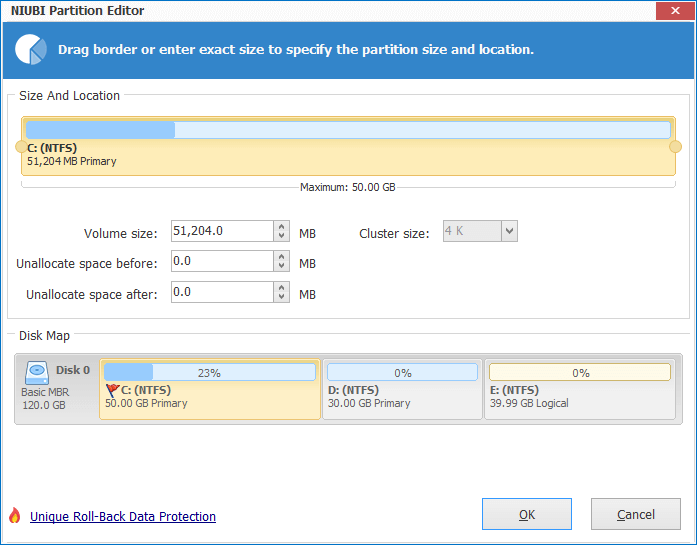 Click OK and back to the main window, where C drive extended to 50GB by holding the 20GB free space from D. Press Apply on top left to execute, done!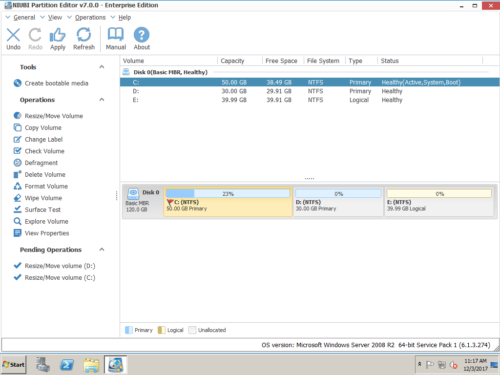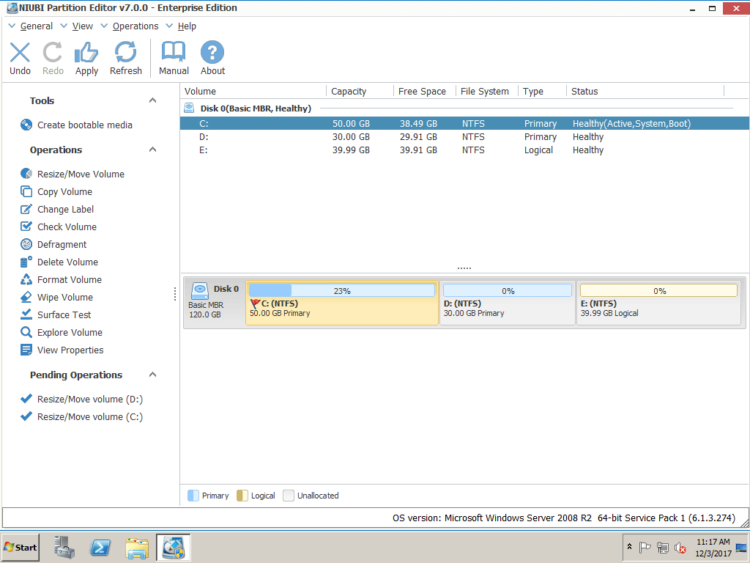 If there is not enough free space in D, you may get free space from other drive in the same disk.Learn More