Partition Magic Server for SBS 2008 to manage disk partition
Looking for a partition magic software working on Windows Small Business Server 2008? PMS Partition Magic Server is your choice.
Windows Small Business Server (SBS) formerly Microsoft Small Business Server is an integrated server suite from Microsoft designed for running network infrastructure (both intranet management and Internet access) of small and medium enterprises having no more than 75 workstations or users. Application server technologies are tightly integrated to enable small businesses with targeted solutions such as the Remote Web Workplace, and offer management benefits such as integrated setup, enhanced monitoring, a unified management console, and remote access.
SBS 2008 is based on Windows Server 2008 and includes Microsoft Exchange Server 2007, Windows SharePoint Services 3.0 and 120-day trial subscriptions of new security products from Microsoft, namely, Forefront Security for Exchange and Windows Live OneCare for Server.
Partition space issue in SBS 2008
The same with other Windows Server 2008 edition, SBS 2008 system C: drive runs out of free space due to more and more updates and applications being installed. SBS 2008 disk management "Shrink Volume" and "Extend Volume" can be used to change existing partition size, however, you cannot extend the system partition by shrinking a data drive, except you can "move" the free unallocated space to the end of C drive.
With Partition Magic Server, this problem can be solved easily. You can shrink and extend any partitions without losing data or starting over.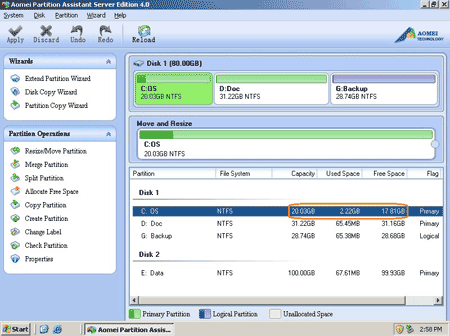 Partition Magic Server for SBS 2008
PMS Partition Magic Server is magic partition manager for Windows Server. Small Business Server 2008 Standard, Premium edition and other Windows Server editions are all supported. Hard disk drive, RAID array, VMware, Hyper-V, Virtualbox, removable USB flash drive and memory cards are all supported.
Partition magic SBS 2008 resources
Download free trial of the partition magic sbs 2008 server and see how easy it is to change your server disk partitions.