Partition Magic Windows 2008 Server software.
Looking for a partition magic software working on Windows Server 2008 to change partition size without losing data? Partition Assistant Server is such disk partition management software for Windows Server 2008 32/64-bit, SBS 2008 and other Windows Server editions.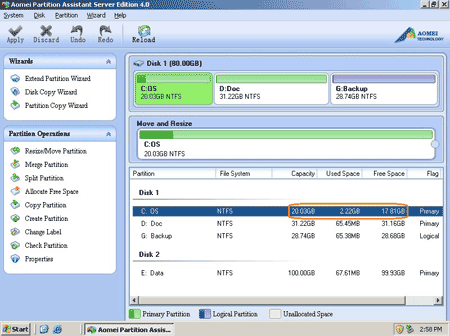 This partition magic software is an all-in-one disk partition management toolkit to assist you optimize server disk space usage and improve server performance. This highly-efficient, easy-to-use and multifunction server partition manager software is widely used by enterprises, college labs, institutions, government sectors, security organizations, public associations all over the world.
What does this Windows 2008 partition magic software do
Basic partition management feature to Create, Delete, Format partition, change drive letter, etc.
Advanced partition manager features to resize partition, shrink partition, extend partition, split partition and merge partitions without losing data, convert between Primary and Logical Partition, etc.
Clone hard disk/RAID array to backup data, migrate and replace disk without reinstalling Operating System.
One step to reallocate free space from one partition and add to another.
Are you still finding Powerquest/Symantec/Norton Partition Magic for Windows 2008 Server? on October, 2011, Symantec has stated they no longer offer Partition Magic. Partition Assistant Server is the best replacement, you'll be satisfied with this powerful partition manager. For medium and large organization, the Unlimited Edition allows unlimited installation and usage to save your time and money.
How to repartition Windows 2008 Server drives
Download trial of this partition magic windows 2008 server software or purchase full version online (30-day money back guarantee).
Trial version cannot proceed any operations but you'll know how it works.
Full version download link will be sent to your email within several minutes.
Following the steps above, you'll have a "new" server within several minutes to half an hour without doing anything else.