Resize Server 2003 partition with magic server partition software
When resizing server 2003 partitions, many people may ask the questions, is it safe to resize a server partition, which tool is better and how to resize the server 2003 drives.
Yes, data safety is most important for a server, an unreliable partitioning utility may cause boot failure or data loss.
Partition Magic is the most famous partition utility before, but it isn't compatible with Windows Server 2003 and later editions. To resize server 2003 volumes, you need other applications such as Partition Assistant. As the best alternative of Partition Magic for Server 2003, it helps you resize partitions, extend system and data drives, split and merge partitions without losing data or starting from scratch.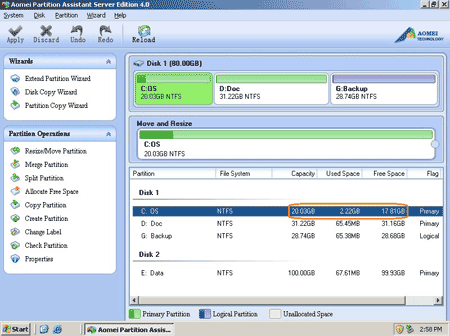 If you have experience using Norton Partition Magic, you'll find that Partition Assistant is similar. Comparing with Partition Magic and other tools, Partition Assistant has many advantages, such as:
Unique enhanced data protecting technology, Disk/partition Copy Wizard and Partition Recovery Wizard features to keep your data intact while resizing partitions.
It provides multi-ways to resize Server 2003 partition corresponding to the disk configurations.
"Resize Partition" feature is similar with other tools, manually shrink a data drive to release free space and then extend C drive with the free space.
"Allocate Free Space" is unique feature of Partition Assistant, to resize Windows 2003 partitions, you just need to select which drives to shrink and extend, without dragging and moving to resize by yourself.
"Extend Partition Wizard" is also the unique feature, it helps resize system or data partition with step by step guide.
If there are other partitions in the same disk and you can get free space from any one, "Allocate Free Space" is the easiest way to resize server 2003 partitions.
If there is no large amount of free space in any partition, you may consider taking free space from several partitions, in this condition, "Extend Partition Wizard" is the best choice.
If there is only one partition in the disk, "Disk Copy Wizard" feature helps you clone this disk to another larger one, during copy process, you can resize the windows 2003 partitions within few steps.
To the people who are not allowed to install applications to production server or manage many servers, Partition Assistant has option to create bootable CD/DVD or USB flash disk.
No matter how many servers in your organization, only one copy of the Unlimited Edition helps you resize the server partitions easily, though the server disk partition layouts are different.