How to resize partition in Windows Server 2003 R2
Windows Server 2003 R2, an update of Windows Server 2003, was released to manufacturing on December 6, 2005. The R2 update was released for all x86 and x64 versions. Built on Windows Server 2003, Windows Server 2003 R2 takes advantage of the stability and security of the code base while extending connectivity and control into new areas. With Windows Server 2003 R2, you get the improvements, such as: Identity and access management, Branch office server management, Storage setup and management, Application development inside and outside your organization's traditional boundaries.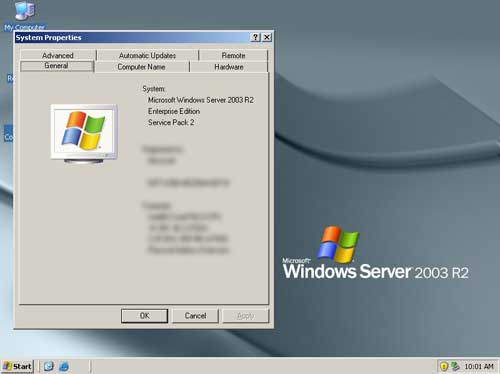 Unlike Windows Server 2008 and SBS 2008, there is no GUI utility in Windows Server 2003 R2 to resize partitions. The only tool from Microsoft to resize Server 2003R2 partition is diskpart command. Diskpart version in Win2003 doesn't integrates shrink command and you can only extend NTFS Data partitions, that is to say, you cannot extend a data drive with FAT format and you cannot resize system volume with either NTFS or FAT file system. Then is there other ways to resize Server 2003 R2 partitions?
Windows Server 2003R2 resize partition with partition magic server
To resize Windows 2003 R2 partition, partition magic server software such as partition assistant server is the right choice. It provides several ways to resize server partition, the process to resizing partitions becomes much easier if you select the proper method.
This server partitioning software integrates unique data protection technology, Disk/partition Copy Wizard and Partition Recovery Wizard features to keep data intact while resizing partitions, so don't worry about server data security.
Some people may ask the question "are there any differences resizing a Server 2003 R2 partition". In fact "R2" just means updated Windows services, file system and structure of the disk partitions keep the same, it is also very easy to resize Windows 2003 "r2" partitions.
How to resize Server 2003 R2 partitions
As I said above, there are several ways to resize partition, however, to save your time, here I introduce the easiest way. If your disk partition configuration is more complicated, just select the proper method to resize Windows server partition.
As no partitioning software has the ability to resize partitions beyond two physcial hard disks, I suggest you open Windows Server 2003 R2 disk management, where you'll see which partitions can be used to extend the system drive (or another data volume).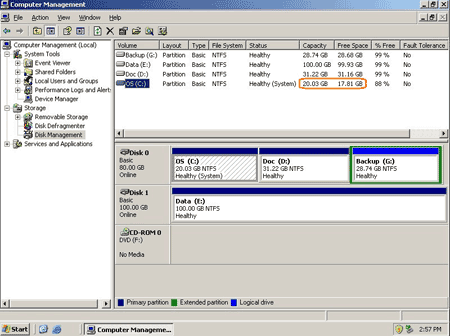 In my server, there are 3 drives in Disk 0, now let's see how to resize the Win2003 R2 partitions and increase C drive space.
Step1, launch partition assistant server, right click partition G: (or D:) and select "Allocate Free Space...".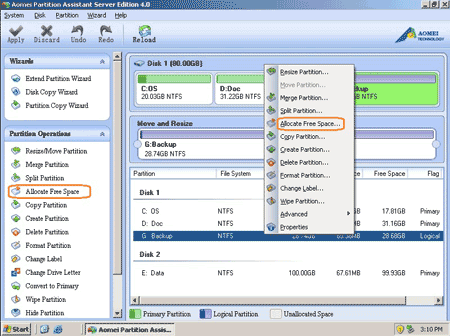 Step2, in the pop-up window, specify the amount of free space from G: and select C: (the one you want to extend) from the drop-down box.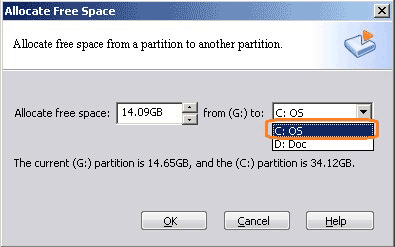 Click OK and back to main window, where you'll find that the partitions are resized. However, this is in virtual mode, to proceed resizing, you need to press "Apply" button on top left toolbar.
If you don't want to resize partitions like this, just click "Undo" to cancel last step or "Discard" to cancel all previous operations.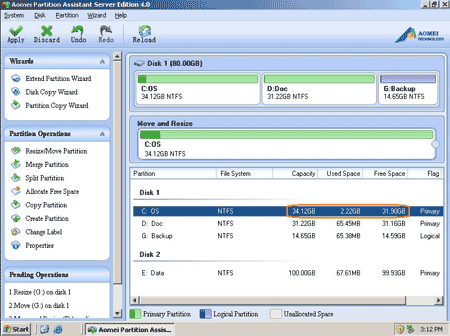 Step3, after clicking "Apply" you can review the pending operations, click "Proceed" or cancel to modify.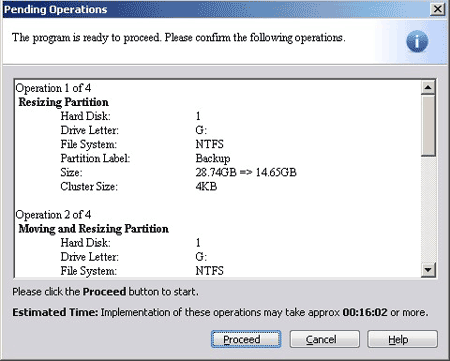 Very quickly, partition resizing complete, check again in disk management, C drive was extended to 34.12GB.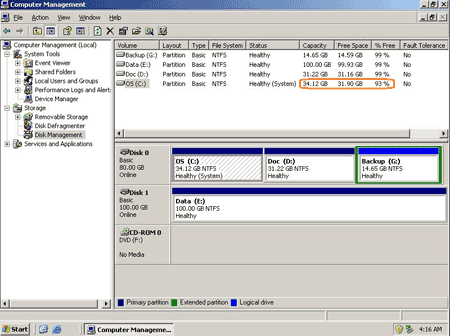 In conclusion, to resize Windows Server 2003R2 partitions, you just need to select a data drive on the same disk to shrink and then add the free space to another one. Unlike other partition utilities, you don't have to waste a long time dragging and dropping to resize and move partitions.
As I said above, no partition software is able to extend a partition by taking free space from another single hard disk, if there are no data drives on the same disk, or you cannot get enough free space from them, you may clone this small disk to another larger one with built-in "Disk Copy Wizard", during cloning, you may extend any partitions with the extra disk space easily.
Download trial or purchase full version and begin to resize the Windows 2003 Server R2 partitions.