Windows Server 2008 partition magic software to manage disk partitions
When a Windows Server 2008 partition running out of free disk space, the easiest solution is by resizing partitions. Though shrink and extend volume features added to Server 2008 disk management, you cannot extend system C drive by shrinking a data drive, except you delete the next contiguous partition, so you have to find other tools.
Generally speaking, a 3rd party application is more professional and powerful than Windows built-in utility, when you searching a server partitioning software, you are very likely to hear about Partition Magic. As the first partition utility, Norton Partition Magic is indeed a great application, however, it is not compatible with Windows Server 2003, not to mention Server 2008. Just forget Partition Magic, as Symantec officially stated they no longer offer this program.
Luckily, there is partition magic alternative for Windows Server 2008, such as Acronis Disk director, Aomei Partition Assistant, etc. Acronis has longer history to support Windows Operate Systems and file systems, but it cannot support large hard disk drives, it is also too expensive ($609 for each copy). As the latest partition magic software, Partition Assistant Server is powerful and cost-effective.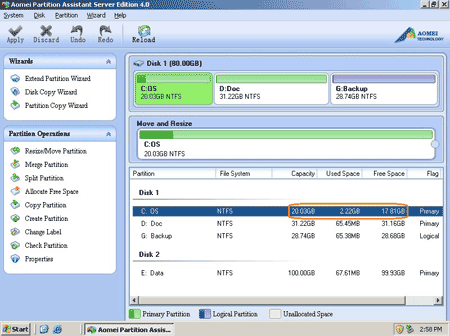 Compare Partition Assistant with Server 2008 disk management
| | | |
| --- | --- | --- |
| Features | Server 2008 Disk Management | Partition Assistant |
| Shrink partition without losing data | | |
| Extend partition with next contiguous Unallocated space | | |
| Move partition/Unallocated space | | |
| Split and merge partitions | | |
| Create, delete, format partition | | |
| Change drive letter | | |
| Recover deleted and lost partitions | | |
| Disk/Partition Copy | | |
| Convert MBR disk to GPT | | |
| Convert GPT disk to MBR without data loss | | |
| Convert between Primary and Logical partition | | |
| Create bootable CD/USB disk | | |
Comparing with Norton Partition Magic and Acronis DDS, Partition Assistant Server supports more operating systems, it is compatible with Windows Server 2008/SBS 2008 (R2) and othe Windows Server editions. (learn more)
As the best replacement of partition magic for Windows 2008 Server, partition assistant provides full set of powerful features, components include:
Partition Manager

Basic and advanced partition management features to resize, extend, split and merge partitions. Ceate, delete, format, set Active, convert Primary/Logical partition, etc.

Disk & Partition Copy

Disk/partition copy to backup data, replace hard disk and migrate data without reinstalling operating system.

Extend Partition Wizard

Step by step wizard helps you extend system volume or data drives much more easily.

Partition Recovery Wizard

Recover deleted or lost partitions with few steps.

Migrate OS to SSD

Easily migrate OS to SSD or HDD.

Bootable CD Wizard

Create and boot from bootable CD or USB flash disk.