How to resize SBS 2003 system partition without starting over?
Many people don't know how to resize partitions in SBS 2003 Server, so in this article, I'll introduce the easiest way to resize SBS 2003 system partition without wasting a long time to start from scratch.
Small Business Server 2003
Windows Small Business Server (SBS) is an integrated server suite from Microsoft designed for running network infrastructure (both intranet management and Internet access) of small and medium enterprises having no more than 75 workstations or users. Application server technologies are tightly integrated to enable small businesses with targeted solutions such as the Remote Web Workplace, and offer management benefits such as integrated setup, enhanced monitoring, a unified management console, and remote access.
SBS 2003 system partition low disk space
Windows SBS 2003 is widely used among small and medium enterprises. The same with other Windows Server editions, SBS 2003 system partition also runs out of free space, no matter how big your hard drive is, you'll be amazed at how quickly application, Windows update, browser caches, restore points and temporary files can eat up your free space.
Under this situation, you'd better fix this problem as fast as possible, otherwise, you cannot install updates or other applications, system even crash if the free space is extremely low. This is the reason why people want to resize SBS 2003 system partition.
Diskpart and disk management
Unlike Windows Server 2008, there is no "Shrink Volume" and "Extend Volume" feature in SBS 2003 disk management, just forget it.
Windows Server 2003 built-in diskpart command can only extend SBS 2003 NTFS data partition, it is unable to resize SBS 2003 system partition. What's more, you can only extend the data partition when there is continuous unallocated space behind.
So What you need is professional server partition software with more advanced functions, such as resizing server partition without any limitations.
Resize SBS 2003 system partition with partition software
Based on the unique enhanced data protection technology and disk partition copy wizard, Partition Magic Server software is high recommended while resizing Windows Server partitions. It is also able to extend SBS 2003 system partition without rebooting if it is NTFS.
This full featured server partition manager functions are brought together: Partition Manager, Disk & Partition Copy and Extend Partition Wizard. It allows user to Resize, Merge, Shrink, Extend system and data partition without data loss. Create, Delete, Format, Copy, Hide, Active partition and much more.
To easier and better resize partitions, it provides 3 ways: "Resize Partition", "Allocate Free Space" and "Extend Partition Wizard".
Steps to resize SBS 2003 system partition without deleting or reformatting
Step 1, Launch Partition Magic Server.
Right-click the data partition and select "Resize Partition", in the pop-up window, drag the left border rightwards to shrink it.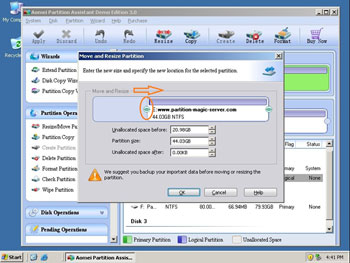 Step 2, Click OK and back to main window, right-click the system partition and select "Resize Partition", in the pop-up window, drag the right border rightwards to hold the Unallocated space.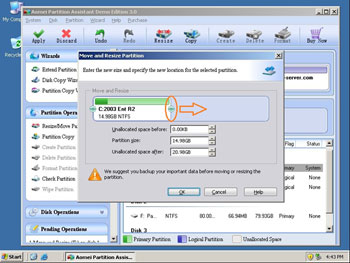 Click "Apply" to proceed, done. Within several minutes you have a "new" server without doing anything else.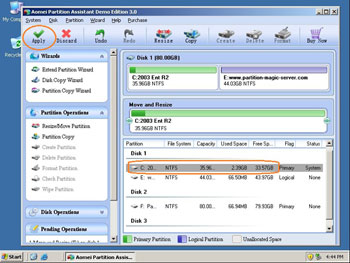 If you want to extend SBS 2003 system drive with noncontiguous data partition, "Allocate Free Space" is much easier, you just need to select which drives to shrink and extend without resizing partitions by yourself. See how to resize Windows Server 2003 partition.
Unlimited Edition allows unlimited installation and usage within your organization to save time and money.