How to expand partition Server 2003 fast and without data loss?
Expand partition on Server 2003
Generally, a Server works 24*7, due to more and more applications installed, the Server C: drive runs out of space. Low disk space will cause many problems, such as Server running slowly, system crash, etc. To recreate and reinstall, it will cost much time, leads to data loss and big loss for the company. To expand partition Server 2003, you'll complete this troublesome problem within several minutes by mouse clicks and drags.
Ensure data security when expand partition Server 2003
The security and stability are undoubtedly the most significant aspects for server computers since a server computer usually stores the most important classified and daily-used files. However, even a slight error on server computer might directly leads to exposure of the whole network to the outside, so it is important to choose a reliable and safe Server partition software.
Based on the enhanced data protection technology and copy wizard built in Partition Magic Server, it is highly recommended with its excellent advantages while partitioning server 2003 as the "Magic Server Partition Software". The reason is that it is able to extend NTFS system partition without reboot to maximize the server performance and minimize the downtime of the server.
Benefits you can get from this Server Partition Software
With its absolutely user-friendly interface, the function to expand partition Server 2003 is easy to get access to, no matter whether you've got experience in using Partition Magic or not.
Moreover, any operations you do on it will be listed in the "Operations Pending" column, making sure no changes take place on your partitions before you click "Apply". And what you operated on this software before is just a simulator for you to see how the changes will affect your partitions. So if you are not sure about your operation, just close this partition software and nothing will be changed.
With Hot Resize feature, you can expand partition Server 2003 without reboot to avoid Server downtime.
With its enhanced data protection technology, you can expand partition Server 2003 without data loss, even if power off or hardware problem occurred when resizing or merging partitions.
Are you still looking for the perfect Partition Magic Server software, particularly to partition server 2003? Partition Assistant Server Edition is your choice.
How to expand Server 2003 partition fast and easily?
Step 1, Launch Partition Assistant Server, you'll see all disks and partitions that connected to your Server and free space, used space and other properties of each partition.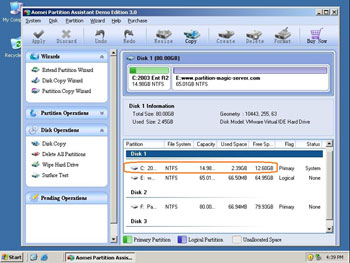 Right-click the data partition and select "Resize", in the pop-up window, drag the left border rightwards to shrink it.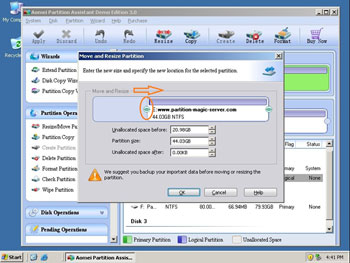 There will be some Unallocated space behind the system partition.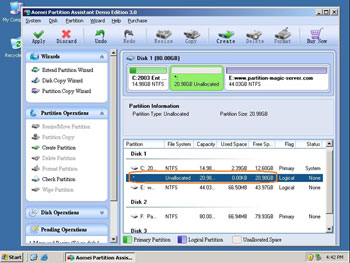 Step 2, Right-click the system partition and select "Resize", in the pop-up window, drag the right border rightwards to hold the Unallocated space.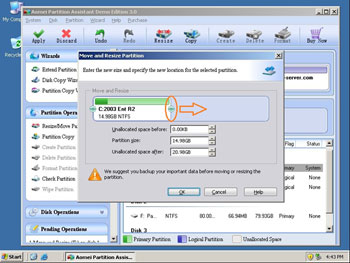 Click "Apply" to proceed, done.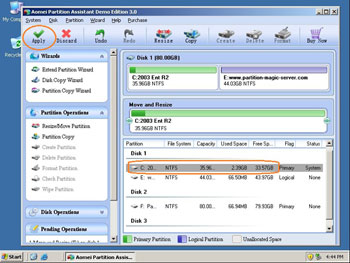 Now you have a "new" Server that can be used for a long time again.
How to allocate free space from any data partition and add to C drive?
For enterprise users, Unlimited Edition allows unlimited usage within your company to save time and money.
Related Articles