How to partition server 2003 with Partition Magic Server fast and easily?
Why partition Server 2003?
As we know, to use a hard disk drive, you need to partition it and divides into several partitions. The problem is that Server system C: drive will run out of space during daily usage, as more and more applications were installed. Microsoft doesn't provide any solutions, the only answer it gives you is deleting the partitions, recreate a large system partition and reinstall Windows, extremely bad.
The risks of Server C drive running out of space
1. System is running extremely slow.
2. You cannot install any applications or update Windows again.
3. System may be crash if there is no free disk space.
You need to solve this problem as soon as possible, no one wants to spend much time and money to reinstall Windows after it crash. Then how to solve Server low disk space problem?
Though, PowerQuest provides Partition Magic, which has the ability to resize partition without data loss, it is for PC rather than Windows Server. Is there Server partition software to resize partition without losing data? Yes, Partition Assistant Server – the powerful Partition Magic alternative for Windows Server to partition Server 2003 safely and easily.
How to partition Server 2003?
To extend Server C: drive, you may use either Resize or Merge feature. With its simple and user-friendly GUI, no professional assistance or experience in using Partition Magic is required.
How to resize Server 2003 partition without deleting for formatting?
Step 1, Launch Partition Magic Server, you'll see all disks and partitions that connected to your Server and free space, used space and other properties of each partition.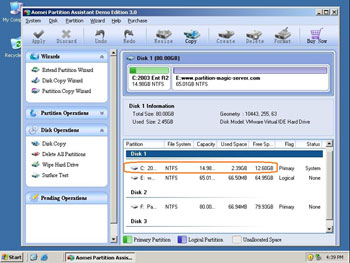 Right-click the data partition and select "Resize", in the pop-up window, drag the left border rightwards to shrink it.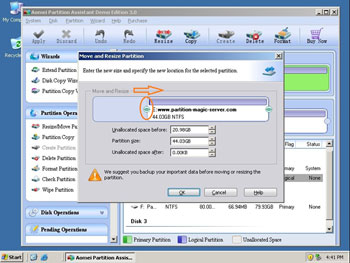 There will be some Unallocated space behind the system partition.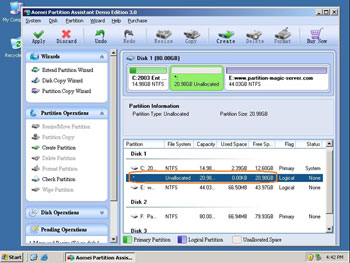 Step 2, Right-click the system partition and select "Resize", in the pop-up window, drag the right border rightwards to hold the Unallocated space.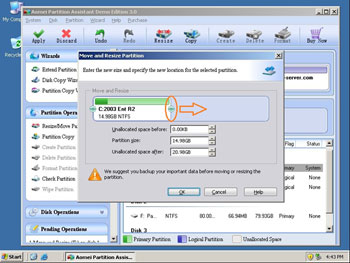 Click "Apply" to proceed, done.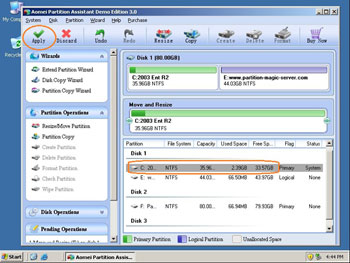 Now you have a "new" Server that can be used for a long time again.
How to allocate free space from any data partition and add to C drive?
For enterprise users, Unlimited Edition allows unlimited usage within your company to save time and money.
Related Articles