Merge or resize partition to extend boot partition easily and safely.
Why extend boot partition?
As computer technicians, we are always asked with different questions, like how to speed up my computer and make it run faster, how to resize partition, especially how to extend boot partition on server or non-server system without reboot to maximize computer performance. Users, especially server users prefer to extend system boot partition to make hard disks and computers run faster and optimize the usage of the space. Would you please tell me the safest way to resize/extend boot (system partition) without data loss?
The definition of boot partition and system partition
The boot partition is the disk partition that contains the Windows operating system files and its support files, but not all files are responsible for booting.
The system partition is a disk partition that contains the boot sector and files such as NTLDR that are needed for booting Windows XP and earlier. (Windows Vista, Windows Server 2008 and Windows 7 use a newer boot loader called bootmgr that replaces NTLDR and is configured by using BCDEdit.exe).
The system partition can be different from the boot partition, although they are often on the same partition (drive C:). Windows setup places the initial system partition based on motherboard BIOS settings.
How to extend boot partition?
Extend NTFS boot partition with Windows built-in Disk Management tool
Actually it's a technical issue to resize/extend boot partition for common users. Maybe some people will say that we could use the disk management tool built-in Windows itself to resize partition, indeed, we could create, delete, format, extend and reduce partition with disk management under Microsoft Windows 2008 Server, Windows Vista and Windows 7, but there are many limitations.
1. Only Windows Vista/7 and Server 2008 has shrink and extend feature to extend boot partition, but it can only resize NTFS partition
2. It can only extend partition when there is unallocated space behind this partition.
3. What about the Windows XP and Server 2003 users? They could create, delete, format, but they could not resize them.
4. The worst thing is that we cannot preview or undo operation, which is terrible for server users if they made incorrect operations.
Resize/extend boot partition with professional partition manager software
As the best Partition Magic Server alternative, Partition Assistant Server is an ALL-IN-ONE Windows partition solution and reliable disk management toolkit. It performs needed hard disk partition maintenance, provides powerful data protection, and minimizes server downtime to increase the efficiency of Windows-based system administration.
With Hot Resize feature, you can extend NTFS boot partition without rebooting computer. It is helpful, especially for Windows Server users.
How to extend boot partition fast and easily?
Step 1, Launch Partition Magic Server, you'll see all disks and partitions that connected to your Server and free space, used space and other properties of each partition.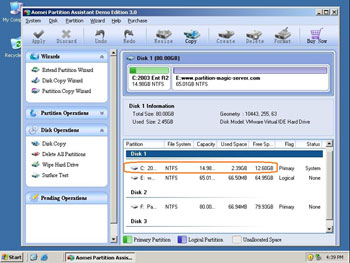 Right-click the data partition and select "Resize", in the pop-up window, drag the left border rightwards to shrink it.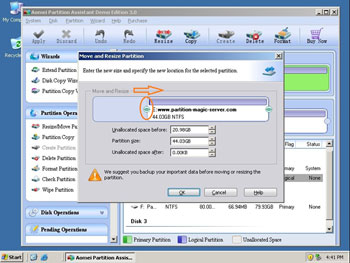 There will be some Unallocated space behind the system partition.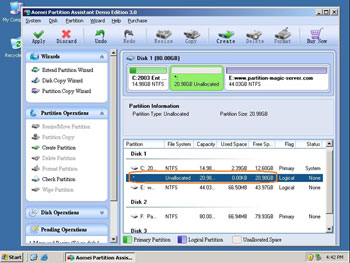 Step 2, Right-click the system partition and select "Resize", in the pop-up window, drag the right border rightwards to hold the Unallocated space.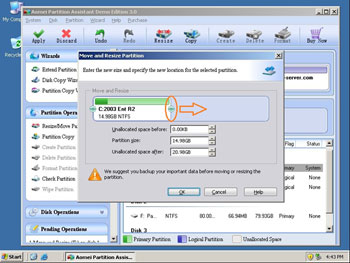 Click "Apply" to proceed, done.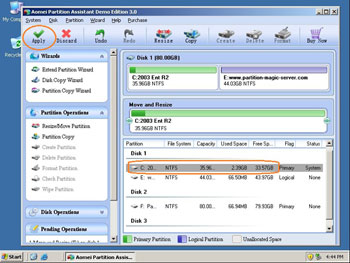 Now you have a "new" Server that can be used for a long time again.
How to allocate free space from any data partition and add to C drive?
For enterprise users, Unlimited Edition allows unlimited usage within your company to save time and money.
Related Articles