How to partition 2003 Server without losing data?
We can use server partition software to maximize the functions of partitions on Windows Server 2003 system and minimize the server downtime by extending the system partitions without reboot. Because Windows Server 2003 is the most common one, here I'd like to discuss Windows Server partition software in particular which can ease the process of resizing partition 2003 Server to maximize the performance of the server and minimize its downtime.
People usually need to resize server partition on Windows Server 2003 under different situations. For example, you want to extend system C drive for further usage. Unfortunately, no resizing or moving partition function is built in Windows Server 2003 Disk Management Tool.
Actually, most of users consider it as headache to resize partition 2003 Server, because it is too much difficult for people who are not specialized in computer. There is some Windows Server partition software for Windows XP, Vista, Windows 7, etc, and then is Windows Server 2003 partition software also available?
This question can be found on many Windows Server forums and the answer is YES. Partition Magic Server is most recommended Windows Server partition software for Windows Server 2003 partition.
Best Server partition software to partition 2003 Server
As the best Server Magic alternative and award-wining Server partition software, Partition Magic Server Edition is an ALL-IN-ONE Windows Server partition solution and reliable disk management toolkit. It performs needed hard disk partition maintenance, provides powerful data protection, and minimizes server downtime to increase the efficiency of Windows-based system administration.

Partition Magic Server supports Windows Server NT/2000/2003/008 with advanced features such as Resize and Move partitions, Merge Partition, Increase partition, Split partition, Copy Partition, Create, Delete and Format partitions, Hide partitions and much more.
How to partition 2003 Server fast and easily?
Step 1, Launch Partition Magic Server, you'll see all disks and partitions that connected to your Server and free space, used space and other properties of each partition.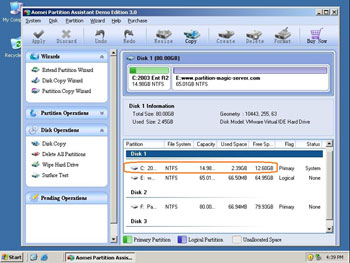 Right-click the data partition and select "Resize", in the pop-up window, drag the left border rightwards to shrink it.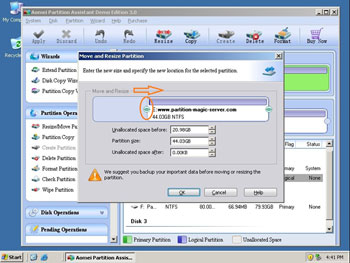 There will be some Unallocated space behind the system partition.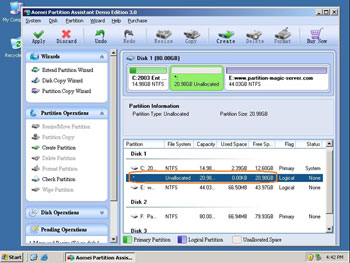 Step 2, Right-click the system partition and select "Resize", in the pop-up window, drag the right border rightwards to hold the Unallocated space.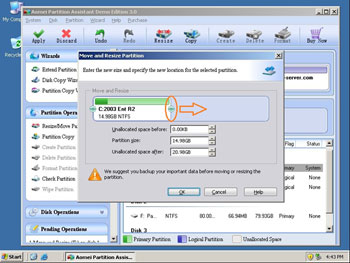 Click "Apply" to proceed, done.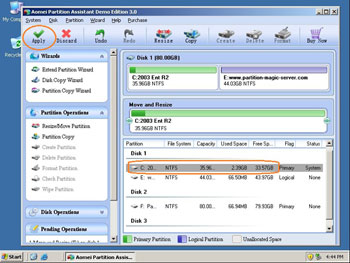 Now you have a "new" Server that can be used for a long time again.
How to allocate free space from any data partition and add to C drive?
For enterprise users, Unlimited Edition allows unlimited usage within your company to save time and money.
Related Articles