Partition Magic for Server 2003 32 bit and 64 bit.
Looking for Partition Magic working on Window Server 2003? You'll get the answer here.
Can I use Partition Magic for Server 2003?
Partition Magic is considered to be the most popular partition software, but there is no Partition Magic Server Edition for Windows 2003.
Server Magic is the Server edition of Partition Magic from PowerQuest. It has the ability to check, format, delete, resize and copy volume sets on Windows Server. Server Magic works like Partition Magic and the only difference from Partition Magic is that it runs under Server Edition of Windows NT and 2000.
But since being acquired by Symantec, Server Magic has not been upgraded. So it is not possible for Server Magic to extend, resize server partition under any advanced Operating System, such as Windows 2003, 2008, etc. so you need to search Server Magic alternatives for Windows Server 2003 such as Partition Assistant Server.
Partition Magic for Server 2003 Alternatives
Comparing with Server Magic, Partition Assistant Server supports more Operating Systems. It is compatible with Windows Server 2000/2003/2008 and desktop 2000/XP/Vista/Windows 7 (32/64) bit systems. All kinds of Hardware RAID array are also supported.
It performs basic and advanced hard disk partition maintenance. This flawless hard disk management functions are brought together: Partition Manager, Disk & Partition Copy and Extend Partition Wizard. It allows user to Resize, Merge, Split, Extend system and data partition. Create, Delete, Format, Copy, Repair partition, etc.
Ensure data security with Partition Magic Server 2003 Alternatives
The security and stability are undoubtedly the most significant aspects for server computers since a server computer usually stores the most important classified and daily-used files. However, even a slight error on server computer might directly leads to boot failure or data loss.
Based on the unique enhanced data protection technology and Copy Wizard built in Partition Assistant Server, you don't need to worry about the data safety. Our Server partition manager is highly recommended by many professionals and editors, besides, many Fortune 500 companies select it to manage their Servers.
Resize partition with Partition Magic software for Server 2003
You just need to drag and move on the disk map to shrink a data partition to get some Unallocated space, after that extend the system C drive with this space. There is no need to delete, format partitions or rebuild the Server.
Any operations you do on it will be listed in the "Operations Pending" column, no changes would take place on your partitions before you click "Apply". So if you are not sure about your operation, just close this Server partition software and nothing will be changed.
How to resize partition, extend system partition on Server 2003 without deleting or formatting:
Step 1, Launch Partition Magic Server, you'll see all disks and partitions that connected to your Server and free space, used space and other properties of each partition.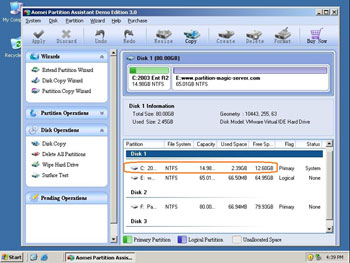 Right-click the data partition and select "Resize", in the pop-up window, drag the left border rightwards to shrink it.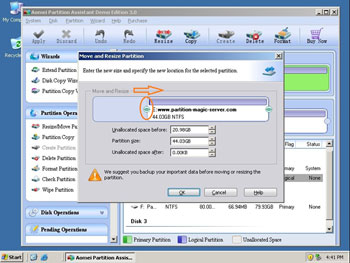 There will be some Unallocated space behind the system partition.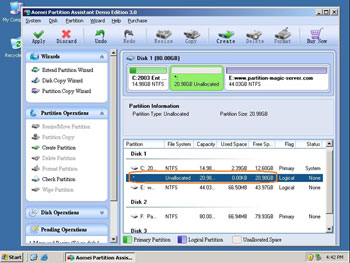 Step 2, Right-click the system partition and select "Resize", in the pop-up window, drag the right border rightwards to hold the Unallocated space.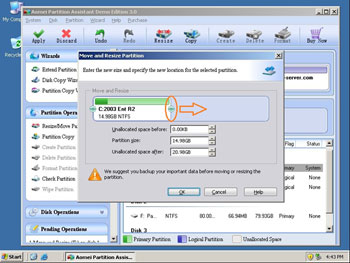 Click "Apply" to proceed, done.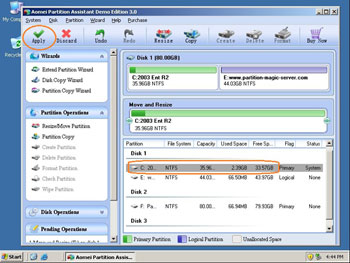 Now you have a "new" Server that can be used for a long time again.
How to allocate free space from any data partition and add to C drive?
Related Articles