Norton Partition Magic alternative for Windows XP/Vista/7 and Servers 2003/2008
Partition Magic is the first and most famous partition software, but now Partition Magic is no longer for selling, so many computer users try to find Partition Magic alternatives. Yes, with good alternative software to Partition Magic helps you better manage hard disk partition and resize partition without data loss.
In this article, I'll introduce Partition Magic alternatives to Windows XP/Vista, Windows 7 and Windows Server 2000/2003/2008, but at the beginning, I want to introduce Partition Magic again, if you know Partition Magic, please jump to the end to see the Partition Magic alternatives.
What is Norton Partition Magic?
Partition Magic is a computer program for hard disk drive partitioning originally made by the PowerQuest corporation but now owned by Symantec. The program runs on Microsoft Windows operating systems (only 2000 and XP, not Vista) or from a bootable CD-ROM and enables creation and modification of partitions. Existing partitions can be resized without loss of data.
Partition Magic is capable of resizing NTFS or FAT (16 or 32) partitions without data loss, and can copy and move partitions, including to other disks. It also has various other features, including being able to convert between FAT16, FAT32 and NTFS, modify the cluster size of FAT16/32 and NTFS file systems, and merge adjacent FAT or NTFS file systems (all without data loss, though some NTFS-only metadata is lost on conversion to FAT). Additionally, it has somewhat limited support for ext2 and ext3 partitions.
Partition Magic releases 1–3 were offered both in OS/2 and Windows versions. Symantec's Partition Magic version 8 only supports Windows.
Partition Magic, while under PowerQuest, was updated regularly, adding new and useful features. Since Symantec purchased the application in 2003, there has not been a new release, and Symantec has stated that it has no plans on releasing a new version.
As of December 8, 2009, the Symantec website states, "Sorry, we no longer offer Norton Partition Magic."
It is time to find Partition Magic alternatives now.
How to resize/extend partition with Partition Magic alternaive for Windows Server
Step 1, Launch Partition Assistant Server, you'll see all disks and partitions that connected to your Server and free space, used space and other properties of each partition.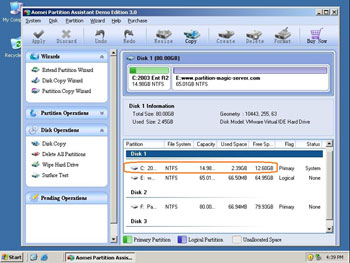 Right-click the data partition and select "Resize", in the pop-up window, drag the left border rightwards to shrink it.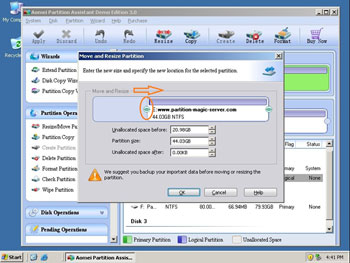 There will be some Unallocated space behind the system partition.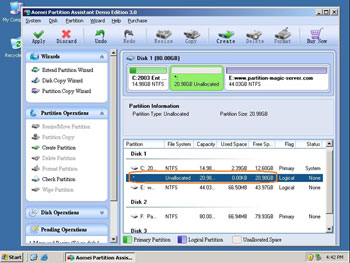 Step 2, Right-click the system partition and select "Resize", in the pop-up window, drag the right border rightwards to hold the Unallocated space.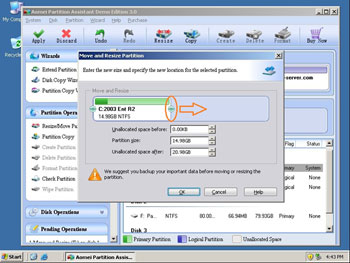 Click "Apply" to proceed, done.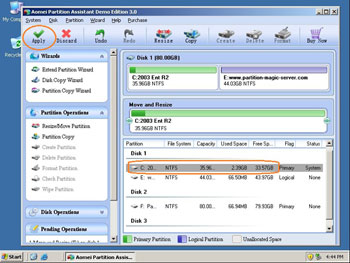 Now you have a "new" Server that can be used for a long time again.
How to allocate free space from any data partition and add to C drive?
For enterprise users, Unlimited Edition allows unlimited usage within your company to save time and money.
Related Articles