Partition Magic Windows 2000 helps you merge, resize partition fast and easily.
Looking for Partition Magic Windows 2000? Need to resize Windows 2000 partition? In this article, you will know how to resize partition with Partition Magic Server for Windows 2000.
Partition Magic Windows 2000
Microsoft doesn't provide any solution to solve drive low disk space problem when your system C drive running out of space. The only bad method it gives you is to delete all partitions, recreate larger system partition and reinstall Windows. Fortunately, Partition Magic has the ability to resize the partitions without data loss.
As the first and most famous partition software, Partition Magic is very popular, but on December 8, 2009, the Symantec website states, "Sorry, we no longer offer Norton Partition Magic", so there is no longer "Partition Magic Windows 2000".
About Partition Magic Server
As Partition Magic is so famous, it becomes the Proper Name of partition management software. Many people try to search "Partition Magic Server" for Windows Server, but in fact, there is no Partition Magic for Windows Server. Fortunately, there are many Partition Magic Server alternatives, such as Partition Assistant Server. Either of each could help you resize Windows 2000 partition fast, safely and easily.
How to resize Windows 2000 partitions fast and easily?
Step 1, Launch Partition Assistant Server, you'll see all disks and partitions that connected to your Server and free space, used space and other properties of each partition.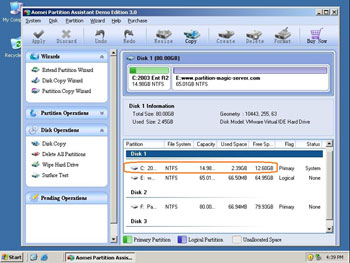 Right-click the data partition and select "Resize", in the pop-up window, drag the left border rightwards to shrink it.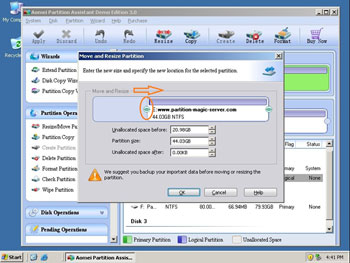 There will be some Unallocated space behind the system partition.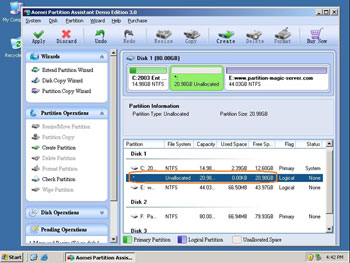 Step 2, Right-click the system partition and select "Resize", in the pop-up window, drag the right border rightwards to hold the Unallocated space.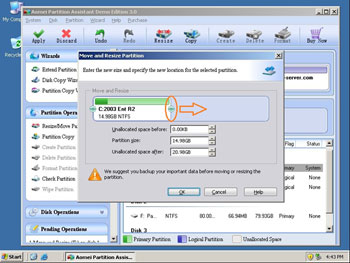 Click "Apply" to proceed, done.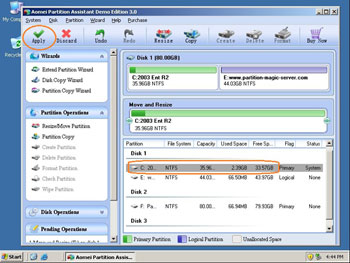 Now you have a "new" Server that can be used for a long time again.
How to allocate free space from any data partition and add to C drive?
For enterprise users, Unlimited Edition allows unlimited usage within your company to save time and money.
Related Articles