Server magic partition software to resize partition without data loss.
Looking for magic partition software Windows Server 2000, 2003, 2008? Now, you get the answer.
As Partition Magic Alternative for Windows Server, Partition Magic Server Edition is awards-winning and ALL-IN-ONE server disk management for Windows Server 2000, 2003, 2008 and XP, Vista, Windows 7.
It performs needed hard disk partition maintenance, provides data protection and disaster recovery, and minimizes server downtime to increase the efficiency of Windows-based system administration. The flawless hard disk management functions are brought together: Partition Manager, Disk & Partition Copy and Extend Partition Wizard.
Fix low disk space with this Server magic partition software
Did you encounter the problem that system C drive running out of space (no free space) and low disk space warning pops up regularly? Do you want to extend Serve C drive without reinstalling Windows? With this Server magic partition software, you can solve this problem fast and easily. Either "Resize" or "Merge" feature could help you. You'll get unique and useful features that other Server partition software doesn't have.
Besides resizing partitions one by one, you can merge to extend system partition in one step.
With Hot Resize feature, you can extend NTFS partition without reboot to avoid Server downtime.
With Enhanced Data Protection technology, you don't need to worry about data security. Windows won't crash even if power off or hardware problem occurred when resizing partition.
Preview or Undo any partitioning tasks before completing it to avoid wrong operations.
Only several clicks and drags are required to resize or merge partition.
This Server magic partition software supports up to 32 hard disks and 2 TB disk and partition.
All hardware RAID are supported.
Improve Server performance with this Server magic partition software
Besides resizing and merge partitions, this Server magic partition software provides many other features for you to improve Server performance and better maintain your machines, for example,

Create, Format, Delete, Label, Hide, Unhide Partition.
Set active partition
Disk/Partition Surface Test (Check File System and bad sectors).
View Disk/Partition property of each partition.
Convert Partition format from FAT to NTFS without data loss.
Disk/Partition Copy to backup or migrate to other disk without reinstalling Windows.
Wipe entire hard disk/partition to protect the sensitive information.
How to resize partition with Server Magic partition software fast and easily?
Step 1, Launch Partition Magic Server, you'll see all disks and partitions that connected to your Server and free space, used space and other properties of each partition.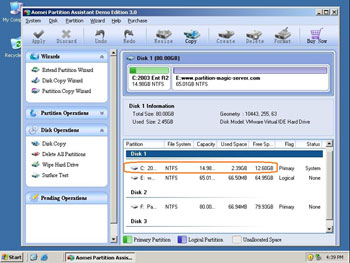 Right-click the data partition and select "Resize", in the pop-up window, drag the left border rightwards to shrink it.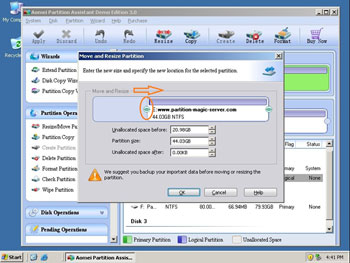 There will be some Unallocated space behind the system partition.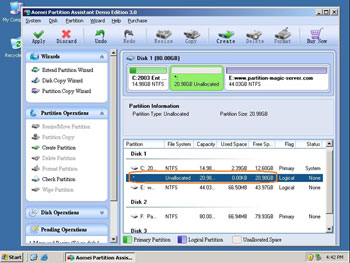 Step 2, Right-click the system partition and select "Resize", in the pop-up window, drag the right border rightwards to hold the Unallocated space.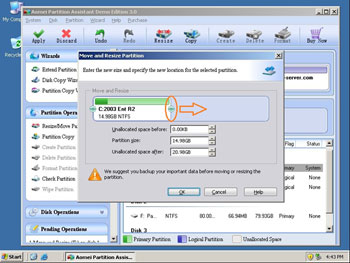 Click "Apply" to proceed, done.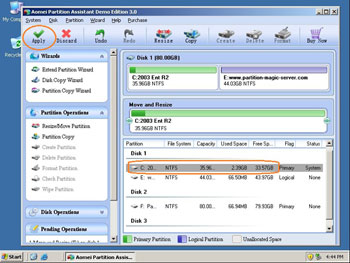 Now you have a "new" Server that can be used for a long time again.
How to allocate free space from any data partition and add to C drive?
For enterprise users, Unlimited Edition allows unlimited usage within your company to save time and money.
Related Articles