How to resize partition on Windows Server 2008 (R2) without data loss?
Microsoft Windows Server 2016 has been released, but many company still running Windows Server 2008. The typical issue on this Operating System is disk space usage – the free space in a drive especially system C: drive running out very quickly, but many people do not know how to solve this problem. Some server users ask if it is possible to re-size partitions without starting from scratch. The answer is YES, today I write this article to introduce how to resize partition in Windows Server 2008 (R2) without losing data or reinstalling Operating System.
Why partition can be resized on Server 2008?
A partition (also called a drive or volume) is a block of entire hard disk. A partition includes some parameters, such as:
file system of this drive
total size
start and end location
used area and unused area
used area include all files of this drive
Windows Server 2008 Operating System can easily locate a file though these parameters, meanwhile, it is able to modify this file and update related parameter.
When C drive is running out of space, you can reduce total size of another partition (such as D:) by:
modify its start or/and end location
move all files of this partition to new area
update all related parameters in the file system
Then you can expand C drive with the unused area in drive D.
Which tool to resize Windows 2008 partitions?
– Resize partition under Disk Management
Better than the previous Windows versions, Windows Server 2008 added new Shrink Volume and Extend Volume function under Disk Management console. However, these functions have many limitations. Shrink Volume can only be used to reduce a specified partition, and Extend Volume only available when there is adjacent Unallocated space. The best idea to resize partition in Windows Server 2008 is using 3rd party software.
– 3rd party partition resizing software
Here I recommend NIUBI Partition Editor, reasons:
It integrated Roll-Back Protection technology to keep Operating System and data intact, even if hardware issue occurred during resizing partition.
Extend NTFS partition without reboot.
Extremely easy to use.
30% – 300% faster than any other tools.
Steps to resize partition in Windows Server 2008
Note: no partitioning software can resize partition beyond physical disk, only drives in same disk can be resized, let's begin.
Step 1: Download and install NIUBI Partition Editor, right click drive D: and click "Resize/Move Volume".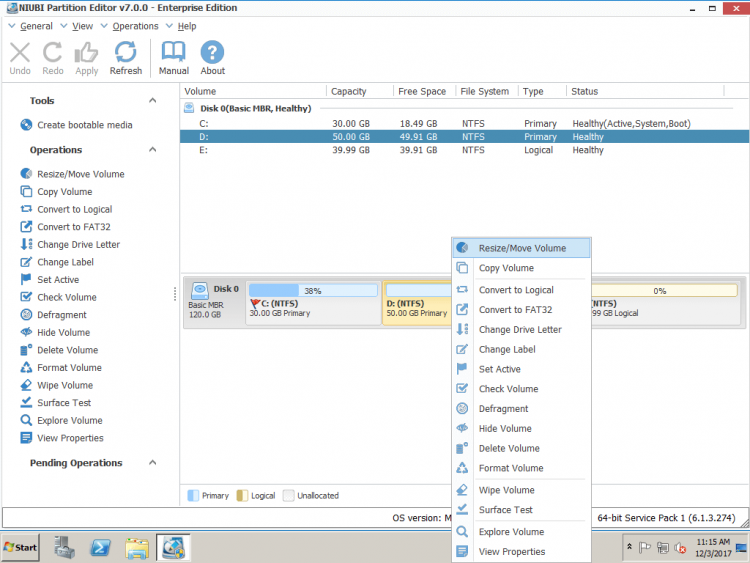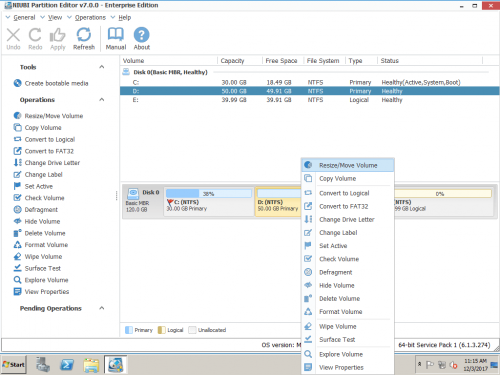 Step 2: In the pop-up window, drag the left border rightwards to generate free Unallocated space.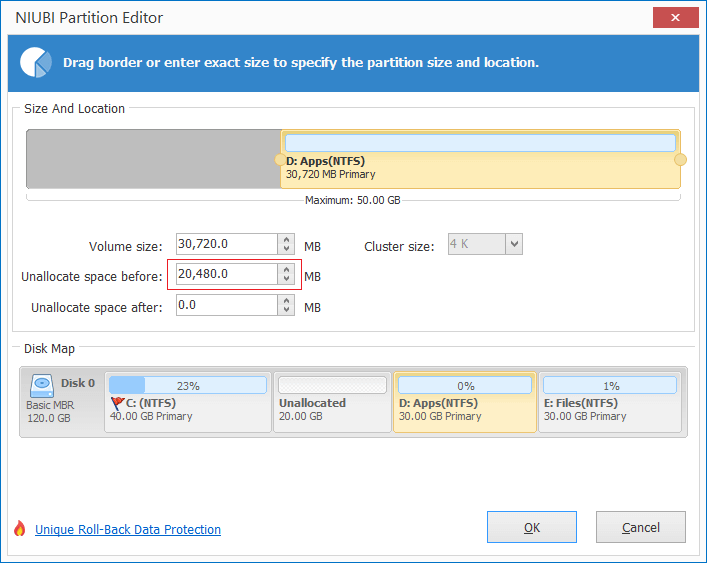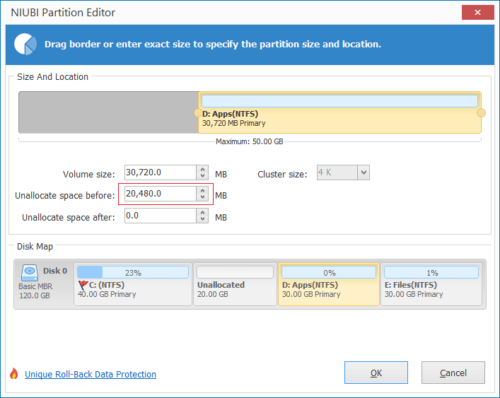 Click OK and back to the main window, where 20GB Unallocated space created behind C: drive.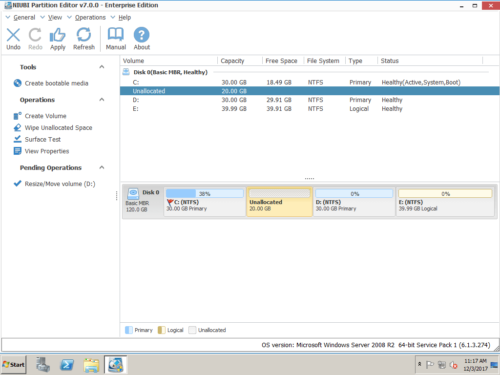 Step 3: Right click C drive and select "Resize/Move Volume" again, in the pop-up window, drag the right border rightwards to hold the Unallocated space.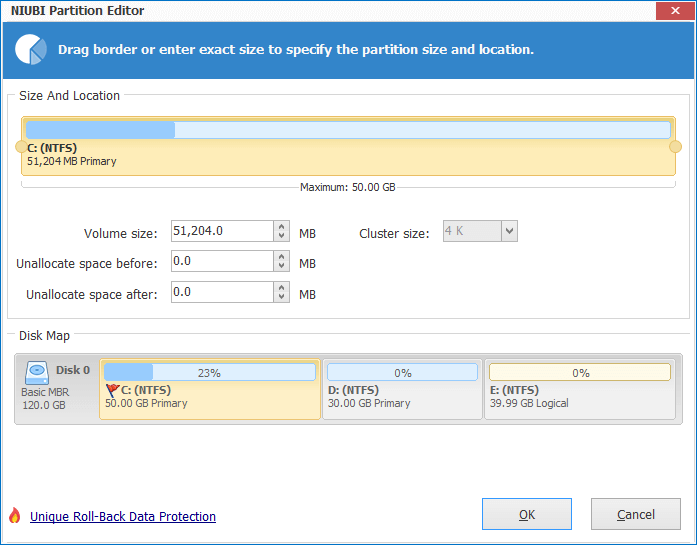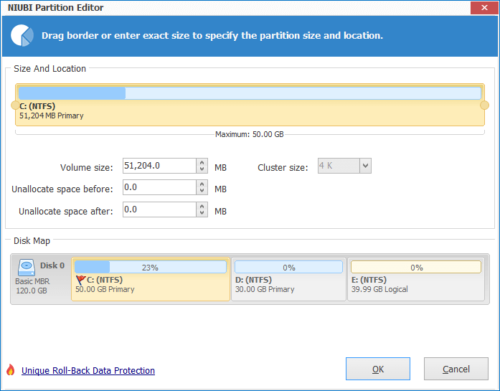 Click OK and back to the main window, where C drive extended to 50GB by holding the 20GB free space from D. Press Apply on top left to execute, done!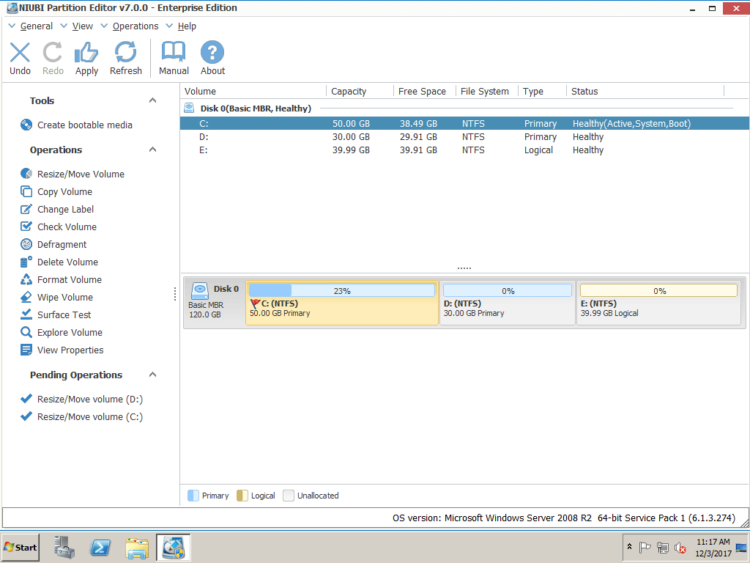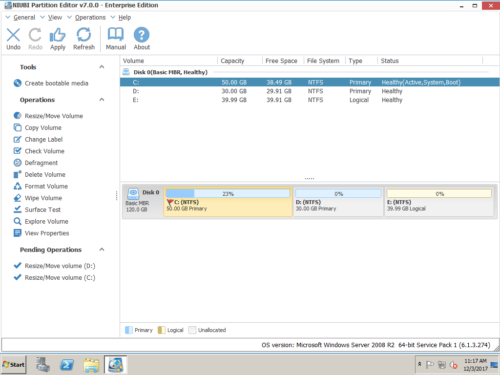 If there is not enough free space in D, simply get free space from other drive in the same disk.
In summary
When a partition (especially the system C drive) is running out of space, resize partition on Windows Server 2008 with Partition Magic Server software. As long as there is unused space in any drive of the same disk, you can increase C drive space easily. Operating system and data keep intact, just partition size will be changed.