Solutions of Server 2003 extend partition fast and easily.
Extend Server 2003 partitions
Due to more and more applications and files wrote to the Server 2003 system partition, the free space becomes insufficient. Windows pops up an alert about this low disk space problem as below. Windows create the low disk space warning to alert computer users to indicate there is not enough space on the disk. When this warning pop up, it means that you will suffer a big risk of data loss and low work efficiency with the computer. The typical reason is without enough space for the system, the computer will not work efficiently and stably. Besides, defragment and more installation are not available.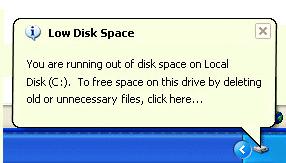 One way to solve this big problem is to free up some space with Windows Cleanup utility and uninstall some applications, delete some files, but neither is a good solution, as they can only free up a little space, even causes Server stop running if you deleted Windows files or uninstall some applications.
Another solution is to extend Server 2003 partition to optimize disk space usage and get powerful disk management to increase the efficiency of Windows-based system administration. That is to say, shrink other existing data partition to get some Unallocated space, and then you can extend the system partition with this space.
Ensure data security when extending Server 2003 partition
The security and stability are undoubtedly the most significant aspects for Server computers since a Server computer usually stores the most important classified and daily-used files. However, even a slight error on server computer might directly leads to boot failure or data loss.
Based on the built-in enhanced data protection technology, Partition Assistant Server is not only reliable itself, but also integrated with the Disk & Partition Copy Wizard to ensure 100% data security. It is highly recommended by many professionals and editors, besides, many Fortune 500 companies, Governments, Universities select it to maintain their Servers.
How to extend Server 2003 partition?
It is extremely easy to extend partition on Server 2003. You just need to drag and move on the disk map to shrink an existing data partition to get some Unallocated space, and then extend the system partition, no need to delete or reformat partitions.
- Any operations you do on the Server will be listed in the "Operations Pending" column for you to preview.
- If your Server system partition is NTFS, you can extend it under Windows witout rebooting.
Steps to extend Server 2003 system partition without deleting or reformatting
Step 1, Launch Partition Assistant Server, you'll see all disks and partitions that connected to your Server and free space, used space and other properties of each partition.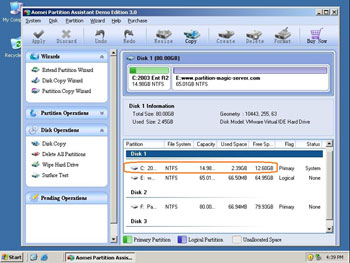 Right-click the data partition and select "Resize", in the pop-up window, drag the left border rightwards to shrink it.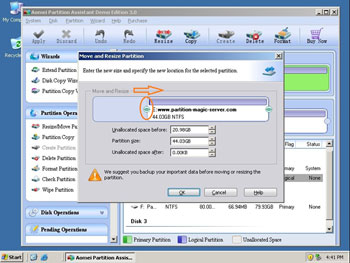 There will be some Unallocated space behind the system partition.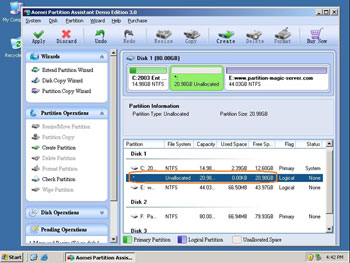 Step 2, Right-click the system partition and select "Resize", in the pop-up window, drag the right border rightwards to hold the Unallocated space.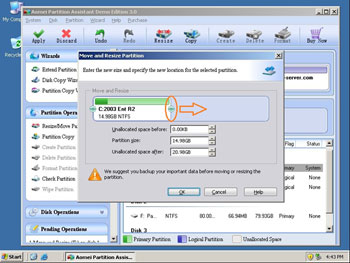 Click "Apply" to proceed, done.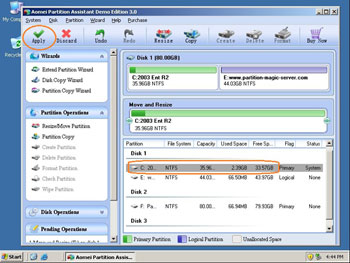 Now you have a "new" Server that can be used for a long time again.
How to allocate free space from any data partition and add to C drive?
For enterprise users, Unlimited Edition allows unlimited usage within your company to save time and money.
Related Articles