How to extend RAID 5 partition on Windows Server safely and easily?
All the size of virtual partitions on RAID 5 array is carefully allocated while building the Server and RAID. However, things are changing and the scheduled size may not always meet your needs, especially for the System partition, as Windows continues to download large updates or any other reasons.
If the System partition is running out of space and struggles for precious unallocated space, you are unable to install new programs, even the whole performance of your computer will be declined, say, the computer goes much slowly.
Fortunately, no matter you want to extend RAID 5 system or data partition, nowadays you can extend RAID 5 virtual partitions without deleting, formatting partitions or rebuilding the Server. You just need to shrink a virtual data partition to extend the system drive or another partition.
Notes to extend RAID 5 partition
1. To Operating System, the RAID 5 virtual drive is the same as a physical hard disk after you building the RAID array. Don't break the RAID array, just operate like resizing partition on physical hard disk.
2. Only hardware RAID 5 partition can be extended, if you use dynamic RAID 5 volume, you need to convert it to basic before resizing.
3. If there is no free space on all of the virtual partitions on the RAID 5, you have to add another disk to this RAID 5 array. After that the new disk space will be displayed as Unallocated at the end of the virtual disk, and then you can resize partitions with Partition Magic Server software.
Make sure the RAID controller has the ability to re-configure RAID 5 without data losing.

How to extend RAID 5 partition?
Two choices - by merging system partition and a data partition, or shrinking a data partition to extend another partition.
As by merging partitions, you'll loss an existing partition (though the files will be transfered to another partition when merging), I do not suggest extend system partition by merging, but if you insist on doing this, please refer how to merge Windows Server 2003 partitions.
It is also extremely easy to extend system partition by resizing. You just need to drag and move on the disk map to shrink an existing data partition and get some Unallocated space to extend the system C drive, there is no need to delete, format partition or rebuild the Server.
Steps to extend RAID 5 system virtual partition:
Step 1, Launch Partition Magic Server, you'll see all disks and partitions that connected to your Server and free space, used space and other properties of each partition.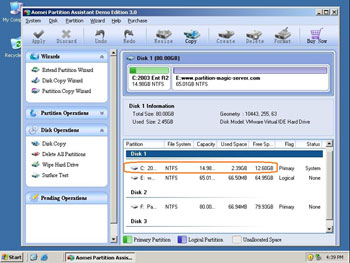 Right-click the data partition and select "Resize", in the pop-up window, drag the left border rightwards to shrink it.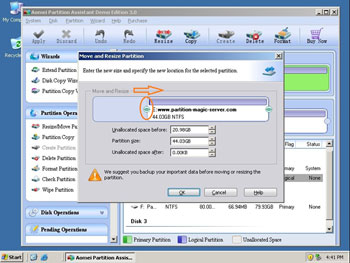 There will be some Unallocated space behind the system partition.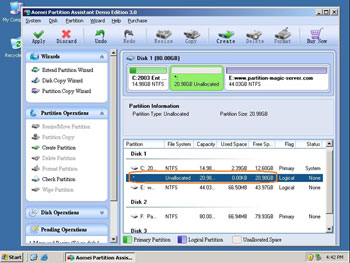 Step 2, Right-click the system partition and select "Resize", in the pop-up window, drag the right border rightwards to hold the Unallocated space.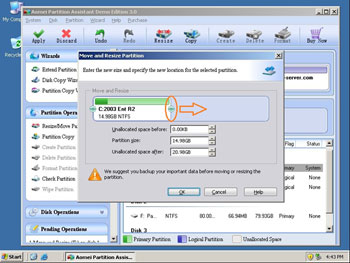 Click "Apply" to proceed, done.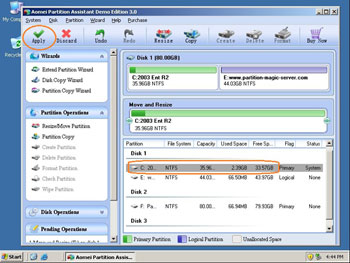 Now you have a "new" Server that can be used for a long time again.
How to allocate free space from any data partition and add to C drive?
For enterprise users, Unlimited Edition allows unlimited usage within your company to save time and money.
Related Articles