Partition Magic SBS 2003 Server to optimize disk space usage
To help you resize or extend SBS 2003 system partition much easily, there is a partition magic SBS 2003 server - Partition Assistant Server edition, which works like Norton Partition Magic but supports more operating systems and provides more features.
Windows Small Business Server (SBS) is an affordable, all-in-one solution to reduce complexity and increase manageability of server technology in a small business environment. It is an integrated server suite from Microsoft designed for running network infrastructure of small and medium enterprises. Application server technologies are tightly integrated to enable small businesses with targeted solutions such as the Remote Web Workplace, and offer management benefits such as integrated setup, enhanced monitoring, a unified management console, and remote access.
Though Windows SBS 2011 has been released, many companies are still running SBS 2003. To reduce the risk of losing data or offline, few administrators want to upgrade untill it is must.
Optimize disk space usage in Windows SBS 2003
The common disk space issue in Windows SBS 2003 is that system C drive becomes full and you need to free up space and extend the system partition. With server partition manager software, this problem can be solved easily. You can shrink any data drive to extend the system C: drive without losing data or starting over.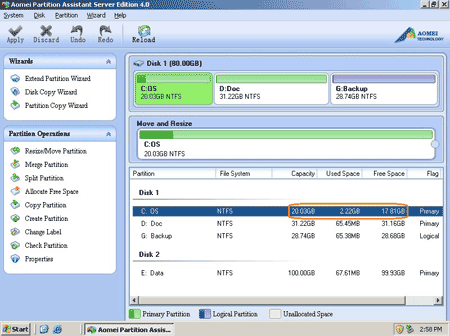 Partition Magic Server for SBS 2003
Norton Partition Magic from Symantec isn't compatible with SBS 2003 Server, on October, 2011, Symantec officially stated stop offering Partition Magic. As the best server magic alternative, Partition Assistant Server supports Small Business Server 2003 Essentials edition, Standard edition, Premium edition and other Windows Server editions. Hard disk drive, all kinds of hardware RAID array, VMware, Hyper-V, Virtualbox, removable USB flash drive and memory cards are all supported.
Partition magic SBS 2003 resources
Download free trial of the partition magic sbs 2003 server and see how easy it is to manage your server disk partitions.