Resize Windows SBS 2003 Server partition fast, safely and easily.
Many people have trouble resizing a SBS 2003 partition, so in this article I want to share some experience. Actually, it is very easy to resize SBS 2003 partition without losing data, no matter it is system drive or a data partition.
Introduction of Windows SBS 2003
Windows Small Business Server (SBS) is an integrated server suite from Microsoft designed for running network infrastructure of small and medium enterprises. While Microsoft has always championed the small business with its line of Small Business Server (SBS) products, the company's most strident server advances in recent years have been with high-end enterprise products, and not those that serve smaller companies. That's all changing with Windows Small Business Server 2003, a product suite that improves on the simplicity and ease-of-use features from previous SBS versions, and adds a host of new functionality.
Like previous SBS versions, SBS 2003 includes everything a small business needs to get connected to the Internet, establish email, share files and printers, send and receive faxes, and so on. This time around, the product has been polished with better installation and deployment tools, simpler and more elegant management capabilities, and new features suggested by users, such as better backup and restore tools, and security-related functionality.
Low disk space on SBS 2003 Server
The same with other Windows Server editions, system drive in SBS 2003 also runs low of free space, here is a typical example:
"I have an SBS2003 server where the primary partition holding the OS is running out of space. The hard drive is partitioned as C: holding the OS and any vital apps and D: holding nothing but data. I have plenty of space to rob from the D: partition. Can you tell me how to resize the SBS 2003 partitions without losing the datas?"
Resize SBS 2003 Server partitions
Now, there is a full featured and awards-winning Server partition manager - Partition Magic Server, which helps is able to resize partition on Small Business Server 2003/2008/2011 32 and 64 bit.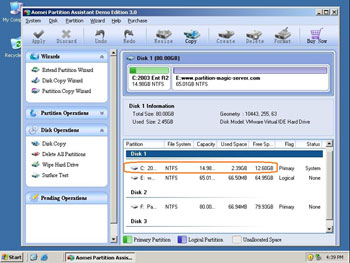 To easier resize partitions, it provides 3 ways to resize sbs partition:
"Resize Partition" - manually rob free space from a data drive and extend the system partition.
"Allocate Free Space" - simplified resizing, you just need to select which drives to shrink and extend.
"Extend Partition Wizard" - Take free space from two or all data drives and extend the C: drive.
Benefits to resize SBS 2003 partition with Partition Magic Server
Partition Magic Server is not only reliable itself with built-in Enhanced Data Protection but also integrated with the Disk & Partition Copy Wizard to ensure 100% data security. It is recommended by many professionals and editors.
With built-in Hot Resize technology, you can extend NTFS system partition without rebooting to save time.
Easy to use and running fast.
Unique 24/7 online live support helps you solve any problem in time.
Partition Magic Server is not only a server partition resizer but also an ALL-IN-ONE server disk management toolkit for Windows Server 2000, 2003, 2008 and Small Business Servers.
It performs basic and advanced hard disk partition maintenance, functions are brought together: Partition Manager, Disk & Partition Copy and Extend Partition Wizard. It helps you Resize, Merge, Shrink, Extend system and data partition. Create, Delete, Format, Copy, Hide, Active partition and much more.
Unlimited edition allows unlimited installation and usage within your organization to save time and money.
Step-by-step guide to resize partition in Windows Server 2003.