How to resize RAID 1 partition without losing data?
Hardware RAID is the most common storage media for many Servers, as it stands for high performance or/and data reliability, but to many Server administrators, it is not an easy task to partition RAID virtual drives, especially when the system C: drive is running out of space. In this article, I'll tell you how to resize RAID 1 partition without losing data, actually, it is an easy task, lol.
Short introduction of RAID 1
In RAID 1 (mirroring without parity or striping), data is written identically to multiple drives, thereby producing a "mirrored set". It works by copying everything that is sent to the first hard disk drive to the second, which is why it is also known as mirroring.
RAID 1 does not improve performance, but is targeted to improve the data reliability of your Server. Consider RAID1 as a hardware-based backup system. If the first hard disk drive fails, the second one takes its place immediately.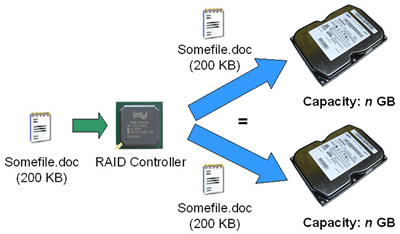 Scenarios to partition RAID 1
Repartition new created RAID 1 virtual drives.
When creating a new hardware RAID 1, some administrators create one partition with the whole space by mistake, or find it is inapposite to keey one partition in daily usage, so they need to repartition the RAID 1 virtual drive into several smaller partitions.
Extend a RAID 1 partition when it is running low.
Generally speaking, RAID 1 is used to store Operating System, in daily usage, you'll be amazed at how quickly Windows update, applications installation, browser caches, and temporary files eat up your free space and clutter your system.
When system C drive is running low, Windows pop up "Low Disk Space" alert. In this condition, system runs much slower, you cannot install updates or applications, system is very likely to crash if the free space is extremely low.
Add space to the existing RAID 1
There are no free space on all RAID 1 virtual partitions, you need to upgrade to larger drives and "add more space" to this RAID array without starting over or losing data.
How to resize RAID 1 partitions without losing data?
For scenario 1 and 2, it is very easy to partition RAID 1, steps as below:
Launch Partition Magic Server, you'll see all physical and virtual disks and partitions that connected your computer, free space, used space and other properties of each partition.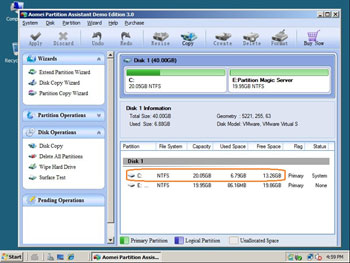 Right-click the data partition and select "Resize", in the pop-up window, drag the left border rightwards to shrink it.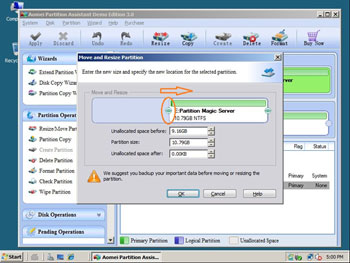 There will be some Unallocated space behind the system partition. (For scenario 1, the Unallocated space can be used to create new partitions)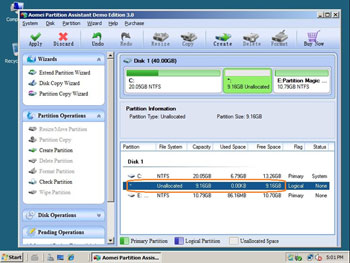 Step 2, Right-click C drive and select "Resize", in the pop-up window, drag the right border rightwards to hold the Unallocated space.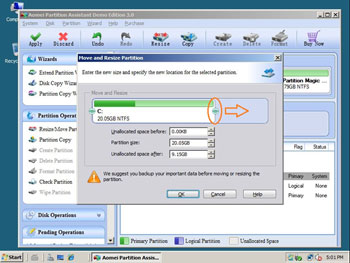 Click "Apply" to proceed, done. After several minutes, you'll have a "new" RAID 1 again.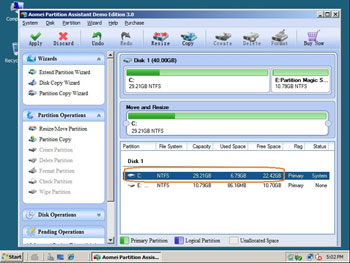 How to upgrade disks add space to existing RAID 1?
Method 1:
Break the drive mirror, remove one of the orginal hard drives.
Install 1x larger hard drive.
Copy the old disk to the larger one.
Remove the other orginal hard drives, make sure you can boot up from your new drive.
Install the second new hard drive.
Boot up into your RAID unlitity and create/rebuild the RAID 1.
Method 2:
Create another RAID 1 with larger drives, and then copy to this new RAID 1, when copying, you can increase any virtual partition size.
Related Articles