How to resize Windows Server 2003 partitions?
Windows Server 2003 has been released for many years, many companies still use it without updating to Server 2008 or 2011. Unlike PCs, the most important for a server is providing continual and stable services.
It is much more difficult to change server settings, especially when system C: drive is running out of space. Who can stop server running and start from scratch, besides, it is very likely to cause data loss during the reinstalling, though you have backup utility.
The experienced administrators know the easiest and fast way is by resizing partitions. That is to say, shrink existing partition(s) and extend the low disk space drive, but for many Server administrators, it is not an easy task to resize Windows Server 2003 partition. Don't worry, after reading this article, you'll know how easy it is to resize partition in Windows Server 2003 without reinstalling.
Which tool to resize partition on Windows Server 2003
Windows diskpart command
Diskpart is Windows built-in utility that is used to manage disk partitions, "Extend" command can be used to extend a "NTFS" "Data" partition. Unlike Windows Server 2008, Server 2003 diskpart (lower version) doesn't provide "Shrink" command, so to extend a data drive, you have to delete the next contiguous partitions.
Another main disadvantage is that diskpart cannot extend Windows 2003 system partition. (More about diskpart extend Windows 2003 partitions)
Server partition software
With partition software, there are no such limitations, you can resize any drive in Windows Server 2003.
Partition Magic Server is such magic Server Partition Manager an ALL-IN-ONE server disk management toolkit for Windows Server 2000, 2003, 2008 and SBS editions (32 and 64 bit).
It performs basic and advanced hard disk partition maintenance, functions are brought together: Partition Manager, Disk & Partition Copy and Extend Partition Wizard. It helps you Resize, Merge, Shrink, Extend system and data partition without data loss. Create, Delete, Format, Copy, Hide, Active partition, Convert between Logical and Primary partition, etc.
Unique and important feature of this partition manager
Based on the built-in enhanced data protection technology, Partition Magic Server is not only reliable itself, but also integrated with the Disk & Partition Copy Wizard to ensure 100% data security. It is highly recommended by many professionals and editors.
Extend partition without rebooting server (close open files and applications).
Easy to use, no professional assistance is required.
Virtual execute before proceed, avoiding incorrect operations.
24/7 online live support, all problem can be solved in time.
How to resize partition in Windows Server 2003
Step 1, Launch Partition Assistant Server, you'll see all disks and partitions that connected to your Server and free space, used space and other properties of each partition.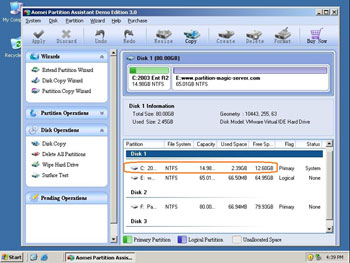 Right-click the data partition and select "Resize", in the pop-up window, drag the left border rightwards to shrink it.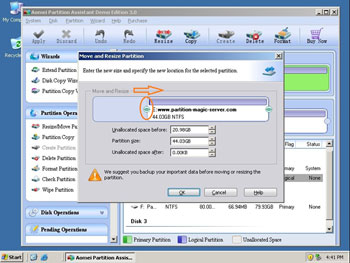 Step 2, Right-click the system partition and select "Resize", in the pop-up window, drag the right border rightwards to hold the Unallocated space.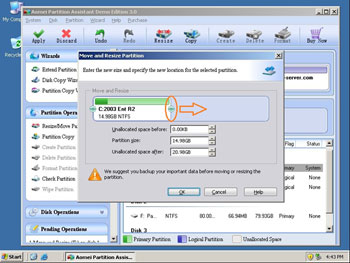 Click "Apply" to proceed, done. Within several minutes you have a "new" Server that can be used for a long time again.
If you don't want to resize partitions one by one manually, there is an easier way, you just need to select which drive to take free space from and then add the space to C: drive, see how to resize Windows Server 2003 partitions.
If there is no large amount of free space to shrink from one partitioins, "Extend Partition Wizard" helps you shrink more or all drives at the same time.
Unlimited Edition allows unlimited installation and usage within your company to save time and money.