Disk partition Server 2003 without deleting or reformatting.
Nowadays, many storage medias can be used to store files for Servers, such as physical hard disk drive, RAID virtual drive, VMware VHDK, Virtual Machine VHD, etc. but no matter which storage media you use, to better use the disk space and improve Server performance, you need to partition the disk drives.
Under Windows Server 2003 Disk Management, you can create, format partitions, but it is insufficient to partition Server 2003, for example, for a large disk partition you cannot shrink it and create more new partitions, you cannot extend the system partition when it is running low. You need a reliable partition software to partition 2003 Server drives.
Is it possible to partition Server 2003 without data loss
All the size of partitions on Windows 2003 Server are carefully allocated while building the Server. However, things are changing and the scheduled size may not always meet your needs, especially for the System partition, as Windows continues to download large updates or some reasons. Application installation, browser caches, Windows system backup and temporary files can eat up your free space and clutter your system quickly.
Formerly, you have to backup system and files, delete all partiitons, recreate larger partitions and then restore, what a time-consuming work. Now, with Partition Magic Server software, you can partition 2003 Server without so much work and wasting so much time.
Disk Partition 2003 Server without deleting or reformatting
It is extremely easy to repartition Server 2003. With the absolutely user-friendly interface, the functions are easy to get access to, you just need to drag and move on the disk map to resize partitions.
- Any operations you do on the Server will be listed in the "Operations Pending" for you to preview.
- You can extend the Server system partition under Windows (without restarting) if it is NTFS.
Steps to partition Server 2003 and extend the system partition
Step 1, Launch Partition Assistant Server, you'll see all disks and partitions that connected to your Server and free space, used space and other properties of each partition.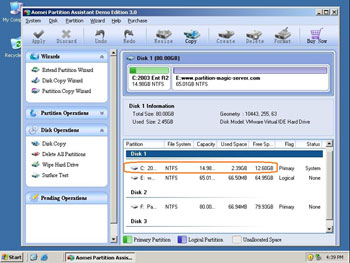 Right-click the data partition and select "Resize", in the pop-up window, drag the left border rightwards to shrink it.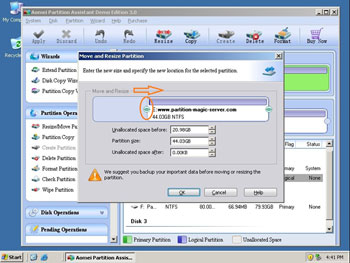 There will be some Unallocated space behind the system partition.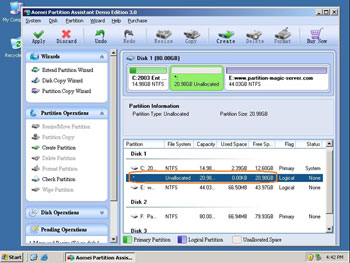 Step 2, Right-click the system partition and select "Resize", in the pop-up window, drag the right border rightwards to hold the Unallocated space.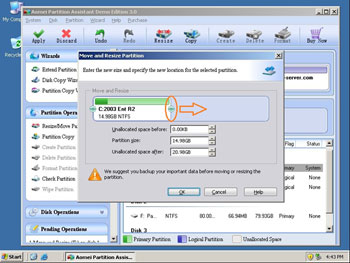 Click "Apply" to proceed, done.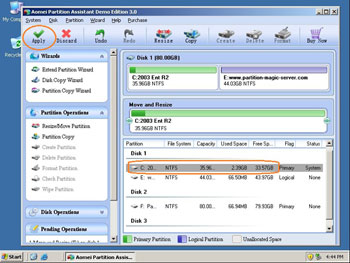 Now you have a "new" Server that can be used for a long time again.
How to allocate free space from any data partition and add to C drive?
For enterprise users, Unlimited Edition allows unlimited usage within your company to save time and money.
Partition Magic Server is your reliable disk partition manager for Windows Server 2000, 2003, 2008, Small Business Server 2003, 2008, 2011 and Windows XP, Vista, 7 (32 and 64 bit).
It performs basic and advanced hard disk partition maintenance. The functions are brought together: Partition Manager, Disk & Partition Copy and Extend Partition Wizard. It allows user to Resize, Merge, Shrink, Extend system and data partition. Create, Delete, Format, Copy, Hide, Active partition and much more.
Benefits to partition Server 2003 with this Partition Magic Server
All-in-one Partition Solution - All your partition and disk maintenance requirements can be fulfilled.
Enhanced Data Protecting - No Data Loss
Hot Resize - Extend NTFS system partition without rebooting
Easy to use & user-friendly interface
Trustworthy, many Fortune 500, universities and governments select it to maintain their Servers.