How to resize Windows Server 2003 partition without starting over?
Why resize Server 2003 partition
When the system C: drive is out of space, the Server computer will be fighting for the precious space and will run slowly. System maybe crash if there is no free space. What will you do in this situation? To start over is a solution but no one would like to waste their happy weekend to do it, and it has potential risk of losing data.
The most time-saving and easiest way is to resize Windows 2003 Server partition with reliable Server partition software. That is to say, shrink other data partition and get some free space and then extend the boot C drive with the Unallocated space, so there is no need to delete or reformat to start over.
Which tool to resize Server 2003 partition
Diskpart command
Diskpart command is free Windows built-in utility runs from command prompt, which can be used to extend a partition in Windows Server 2003. After searching by Google, you may find some articles about resizing 2003 Server partition with Diskpart, however, all these "tutorials" are created on a data drive. Microsoft lists the limitations on its website:
The volume must be formatted with the NTFS file system.
Only the extension of data volumes is supported. System or boot volumes may be blocked from being extended.
You cannot extend the partition if the system page file is located on the partition.
3rd party partition software
With partition manager software, there are no such limitations and you can shrink and extend any partitions.
Partition Magic Server is such magic server partition manager. This hard disk management toolkit functions are brought together: Partition Manager, Disk & Partition Copy and Extend Partition Wizard. It allows user to Resize, Merge, Shrink, Extend system and data partition without data loss. Create, Delete, Format, Copy, Hide, Active partition and much more.
It is able to resize Server 2003 NTFS partition without rebooting.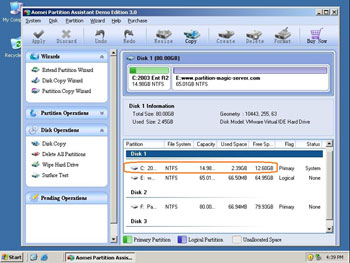 Ensure data security when resizing a Server 2003 partition
The security and stability are undoubtedly the most significant aspects for Server computers since a Server computer usually stores the most important classified and daily-used files. However, even a slight error on server computer might directly leads to boot failure or data loss.
Based on the unique Enhanced Data Protection technology and Copy Wizard built in Partition Magic Server, you don't need to worry about the data safety. This server partition manager is highly recommended by many professionals and editors.
How to resize partition on Windows Server 2003?
There are three ways to resize partitions.
"Resize Partition" feature - Shrink a partition to get free unallocated space and then extend another with this space.
"Allocate Free Space" - Just select which drive to take free space from and which to extend.
"Extend Partition Wizard" - If there is not enough free space to take from a partition, you can shrink all data drives with this feature.
Detailed steps to resize Windows 2003 server partition.
Benefits to resize Server 2003 partition with this Partition Magic Server
All-in-one Partition Solution - All your partition and disk maintenance requirements can be fulfilled.
Enhanced Data Protecting - No Data Loss
Hot Resize - Extend NTFS system partition without rebooting
Easy to use & user-friendly interface & working fast
Trustworthy, many Fortune 500 companies select it to maintain their Servers
For enterprise users, Unlimited Edition allows unlimited usage within your company to save time and money.