How to resize partition in Windows 2003 Server 32 and 64 bit
As there is no GUI disk management snap-in to shrink and extend partition, to resize Windows 2003 partition, some technicians or server administrators recommend Partition Magic - the most famous partitioning utility that is able to resize partitions without starting over. Meanwhile, some people talk about diskpart commands - Windows built-in partition management tool that runs from command prompt. However, these utilities are not the right tool to resize Windows 2003 Server partition.
Partition magic to resize Windows 2003 partition
Partition magic is the first and most famous partition software released from PowerQuest and then the ownership transfered to Symantec corporation. Partition magic isn't compatible with Windows Server 2003 and later editions. On October, 2011, Symantec stated they no longer Norton Partition Magic, so you cannot resize Windows Server 2003 partition with this software.
Diskpart commands
Diskpart is Windows built-in utility, so many people try to resize Windows 2003 partitions with this tool, however, it is not the right one, because it has many limitations, such as:
Shrink command isn't integrated in the diskpart version of Server 2003.
Only when there is next contiguous free space, extend command is available.
Only NTFS data drive can be extended.
System drive cannot be resized.
The partition page file is located cannot be extended.
How to extend Windows 2003 partition with Diskpart?
To resize partition in Windows 2003 Server, the professional server partition software is recommended.
Resize Windows 2003 partition with partition software
Step1, launch partition assistant server and you'll see all disk partitions connected to this server.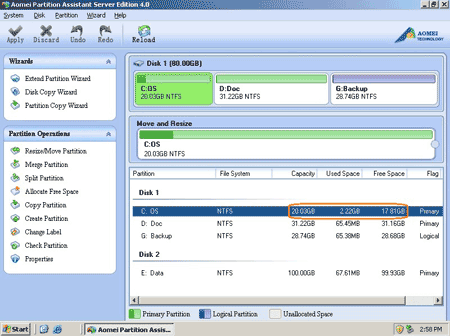 Step2, right click drive G: (or other drives on the same disk) and select "Allocate Free Space". In this pop-up window, add the free space to C: (or other partition you want to extend).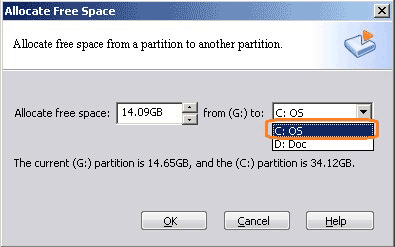 Click OK and back to main window, click "Apply" on top left to proceed.

Review pending operations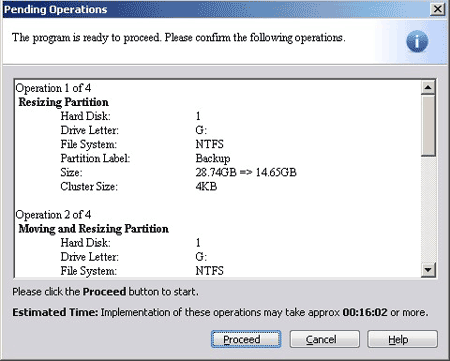 Within several minutes to half an hour (depends on how many files to move), these Windows Server 2003 partitions resized, check in disk management.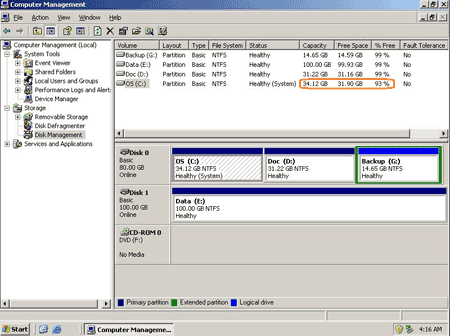 As a partition magic server software, partition assistant helps you resize Windows 2003 partitions without reinstalling, formatting or starting over, you'll have a "new" server within few steps and in a short time. It is able to extend NTFS partition without rebooting to reduce downtime.
The main benefit using partition assistant is data kept intact while partitioning. Its uique data protection technology helps you resize Windows Server 2003 partitions easily and safely. To ensure 100% data security, this server partition manager integrated "Disk/Partition Copy Wizard" to backup data and "Partition Recovery Wizard" to recover lost partitions. Of course, if you are still worried about data, you may image backup the server system and files.
Multi-ways to resize Windows 2003 Server partition
As a server administrator, you may manage many servers in your company or organization. The disk partition layout, disk partition capacity, used space, free space in different servers are very likely to be different. Furthermore, besides Windows Server 2003, you may also manage SBS 2003, Server 2008 (R2), disk partitions. Some servers use single hard disk, some use hardware RAID array and some even running in VMware virtual environment
Don't worry, we provide you one-stop solution. Unlimited edition allows unlimited installation in your organization to save time and cost. The same with Server edition, it provides multi-ways to resize Windows 2003 partitions. This partition manager software supports hard disk drive, hardware RAID array, VMware, Hyper-V, USB disk and memory cards, it is compatible with Windows Server 2000/2003/2008 and SBS 2003/2008/2011 (32 and 64 bit). (see system requirements)
Actually, this partition software is not only a partition resizer, but an all-in-one toolkit. It also provides tons of powerful features, such as: rebuild MBR, align partition, convert partition between Primary and Logical, change partition type, change partition serial number, etc. (see full features)
Purchase full version to resize Windows 2003 partitions and better manage the server disk partition now.