How to resize Server 2003 partition without data loss or starting over?
To resize a server 2003 partition, many people tried partition magic, of course failed as partition magic isn't compatible with Windows Server 2003 and the later Server editions. Just forget Norton Partition Magic, as Symantec abandoned this great software and officially state they no longer it.
Diskpart commands? Don't waste so much time reading the tutorials and testing in your server, because there is no way to resize server 2003 partitions with diskpart commands. No shrink command, how can you get free space? Extend command can only extend a data partition (must be NTFS), how can you resize the system partition? (more about diskpart resize partition)
Why not resize the server 2003 partition with partitioning software? Much easier and faster.
The reason why administrators don't like to use 3rd party applications is considering data security, because data is most important for a server, who can bear boot failure or data loss, so in some companies, the administrator are not allowed to install applications to a production server. Yes, it is a good habit to backup before any operations to a server and pay attention to data safety.
However, everthing has dual characters, if you don't use 3rd party professional tool, you cannot resize server 2003 partitions and solve this problem easily, of course you need to select a reliable partition resizing software. Here, I'd like to recommend a "magic" server partition software - Partition Assistant Server.
This partition utility is specially designed to resize Windows Server partition without losing data, it interates enhanced data protection technology and provides multi-ways to resize partitions. To ensure 100% data security, it provides "Disk/partition Copy Wizard" feature to backup and migrate data, "Partition Recovery Wizard" to recover lost partitions. Due to its ability to keep data intact while resizing serve 2003 partition, it is recommended by many professionals and technicians. If you still worry about data safety, backup with your own backup utility.
Steps to resize Server 2003 partitions
Firstly, I suggest you open Server 2003 disk management (right click My Computer > Manager > Storage > Disk Management), besides the information of partition capacity and free space, you'll know the disk partition layout there. As no partitioning utility is able to resize partitions beyond physical hard disks, you'd better check out in disk management if there are other partitions on the same disk and which partition can be taking free space from. To better explain how to resize partition in Server 2003, I took a screen shot.

If there is plenty of free space in partition D:, shrink it with "Resize Partition" feature to get free "Unallocated" space behind drive C: and then extend the system volume with the free space. (This is the common method used by many partition utilities)
If you cannot shrink drive D: and have to take free space from drive G: (the non-continuous partition), it is complicated with common way, so partition assistant server provides unique features to resize Server 2003 volumes.
"Allocate Free Space" - you just need to select which drives to shrink and extend no matter they are contiguous or not.
Step1, launch partition assistant, right click drive G: (or any data drives on the same disk of your server) and select "Allocate Free Space".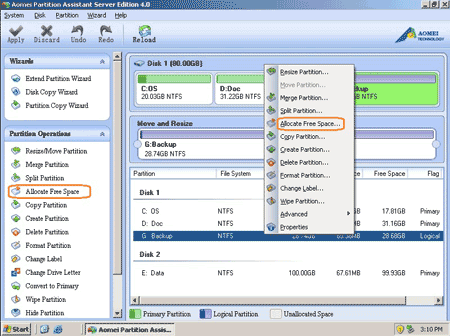 Step2, in the pop up window, specify the amount of free space to add in C drive.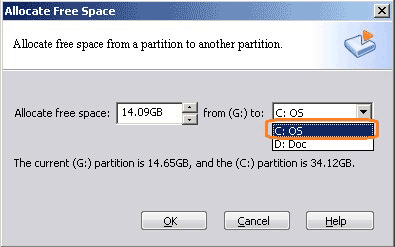 Click OK and back to main window, press "Apply" on top left to proceed, very quickly partition resizing complete, open Server 2003 disk management to check.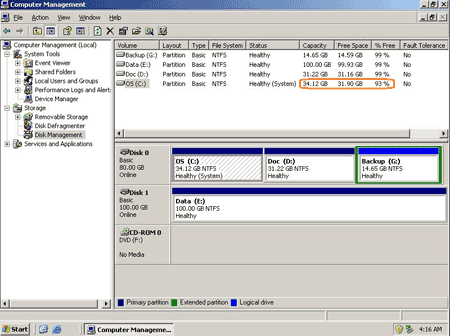 C drive space increased from 20.02GB to 34.12GB
Within two steps, you can resize server 2003 partition without doing anything else, is it easy?
More complicated situation to resize partition in Windows 2003 Server
To save your time, if you can shrink any one of the data drives, just ignore the next paragraphs, otherwise, please continue reading.
In some situations, you cannot resize partitions in such easy way, for example:
You cannot get plenty of free space from one data partition to extend the system drive.
The hard disk is small and there is no free space in all data drives.
Don't worry, partition assistant also provides solution for these situations. You may either shrink more data drives at the same time to extend volume C with "Extend Partition Wizard", or copy the small disk to another larger one with "Disk Copy Wizard" feature and then extend drive with the extra disk space in the new disk.
No matter how complicated the server partition configuration is, this partition software provides corresponding solution to resize the server 2003 partition. No matter how many servers in your organization, you just need one copy of Unlimited Edition, which allows unlimited installation and usage.
Purchase the full version and begin to resize your server 2003 partitions now. (30day money back guarantee)