How to repartition 2003 Server hard drive without losing data?
First of all, let's see a typical question on the forum:
" I have a client who has a Windows 2003 server. They had set it up with a small C: drive and the bigger D: drive for data. Now we are fighting windows for control of the last 100 MB. It won't do windows updates.
Will any of the repartitioning tools handle this? "
The answer is, yes, Partition Magic Server is able to repartition 2003 Server drive without deleting or reformatting.
All the size of partitions on Windows 2003 Server are carefully allocated while building the Server. However, things are changing and the scheduled size may not always meet your needs, especially for the System partition, as Windows continues to download large updates or some reasons. Application installation, browser caches, Windows system backup and temporary files can eat up your free space and clutter your system quickly.
How to repartition 2003 Server drives?
Formerly, you have to backup system and files, delete all partiitons, recreate larger partitions and then restore, what a time-consuming work.
Under Windows Server 2003 Disk Management, you can create, format partitions, but you cannot repartition 2003 drives when it is running low.
Now, with Partition Magic Server software, you can repartition 2003 Server fast, safely and easily. With the absolutely user-friendly interface, the functions are easy to get access to, you just need to drag and move on the disk map to repartition.
Pay attention to data security when repartitioning 2003 Server
Repartition Windows Server 2003 is not an easy job for Windows Server users because it is involved with the data safety on the Server partitions. So, they need to think twice to choose reliable Server partition software to repartition 2003 Server drives. No one wants to see data loss or boot failure after repartitioning.
Partition Magic Server is not only reliable itself, but also integrated disk and partition copy to backup your data. It is also able to extend NTFS system partition without rebooting to save time.
Steps to repartition 2003 Server and extend the system partition
Partition Magic Server provides 3 ways to repartition drives.
1. Resize/Move - Shrink a data partition to get some free space and then extend the system partition.
2. Extend Partition Wizard - Shrink one or all data partitions and extend the system drive with step by step guide.
3. Allocate Free Space - One step to shrink a specified data partition and extend the system drive.
Steps to repartition with Resize/Move feature
Step 1, Launch Partition Magic Server, you'll see all disks and partitions that connected to your Server, free space, used space and other properties of each partition.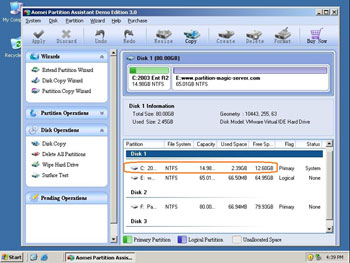 Right-click the data partition and select "Resize", in the pop-up window, drag the left border rightwards to shrink it.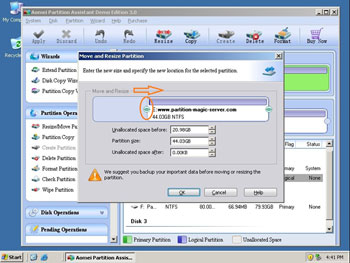 There will be some Unallocated space behind the system partition.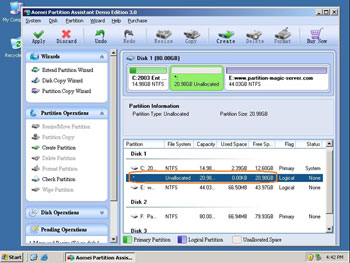 Step 2, Right-click the system partition and select "Resize", in the pop-up window, drag the right border rightwards to hold the Unallocated space.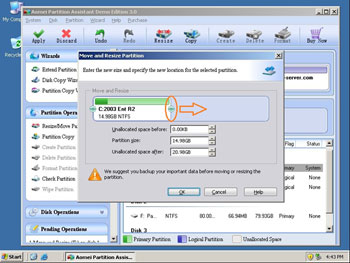 Click "Apply" to proceed, done.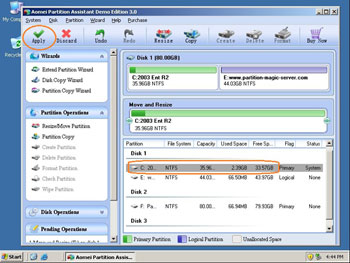 Now you have a "new" Server that can be used for a long time again.
Partition Magic Server is not only a partition resizing tool, but also a reliable disk partition manager for Windows Server 2000, 2003, 2008, Small Business Server 2003, 2008, 2011 and Windows XP, Vista, 7 (32 and 64 bit).
It performs basic and advanced hard disk partition maintenance. The functions are brought together: Partition Manager, Disk & Partition Copy and Extend Partition Wizard. It allows user to Resize, Merge, Shrink, Extend system and data partition. Create, Delete, Format, Copy, Hide, Active partition and much more.
For enterprise users, Unlimited Edition allows unlimited usage within your company to save time and money.
Related Articles