How to resize partition with partition manager for Windows Server 2003?
What will you do if system C: drive running out of space on Windows Server 2003? When a boot partition C: drive is out of space, the Server computer will be fighting for the precious space and will run slowly. System maybe crash if there is no free space.
What will you do in this situation? To start over is a solution, but longer Server downtime means more loss and no one would like to waste their happy weekend to do it. The most time-saving and easy way is to resize Partition C: with reliable partition manager for Windows Server 2003.
This article will recommend you a server partition manager for resizing partition in Windows Server 2000/2003/2008 – Partition Assistant Server Edition, which can resize Server 2003 partitions without losing data, and the work to resize Windows server 2003 partition will be a piece of cake even for the ordinary users.
Partition manager for Windows Server 2003
For a Windows Server 2003 user, to resize partition on Windows Server 2003 is not an easy task to do. Some unreliable software might destroy all your valued data during the process of resizing server partition under Windows Server 2003 Operating System. Now, there is a fantastic and award-wining partition manager for Windows Server 2003 – Partition Assistant Server Edition.
This flawless hard disk management functions are brought together for Windows Server 2000/2003/2008 and Windows 2000/XP/Vista/Windows 7 including: Partition Manager, Disk & Partition Copy and Extend Partition Wizard with all hardware RAID supported.
The most important, Partition Assistant helps you resize partition without data loss and it is easy to use.
Benefits of this partition manager for Windows Server 2003
Partition Assistant Server provides powerful features with the most cost-efficient price.
Enhanced data protection technology helps you resize, merge partition without data loss.
Hot Resize feature helps you extend NTFS partition without reboot to suspend Server running.
Disk and partition copy feature helps you backup data or migrate to another disk without reinstalling Windows.
Wipe disk/partition to protect your data security.
Changes made on partitions can be previewed before applying to the hard disk.
With user-friendly interface, no professional assistance or experience in using Partition Magic is required.
30-day Money Back Guarantee, purchase useful software without worries behind.
How to resize Windows Server 2003 partition with Partition Manager fast and easily?
Step 1, Launch Partition Assistant Server, you'll see all disks and partitions that connected to your Server and free space, used space and other properties of each partition.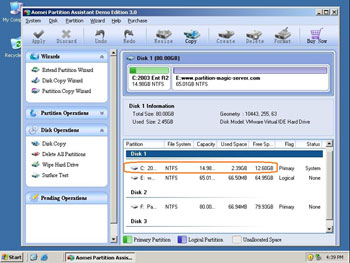 Right-click the data partition and select "Resize", in the pop-up window, drag the left border rightwards to shrink it.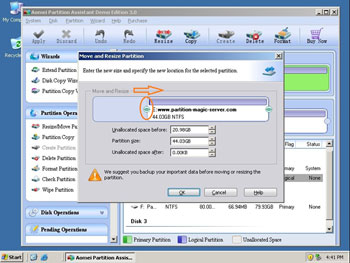 There will be some Unallocated space behind the system partition.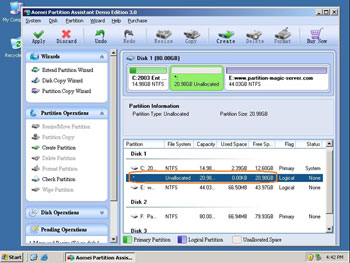 Step 2, Right-click the system partition and select "Resize", in the pop-up window, drag the right border rightwards to hold the Unallocated space.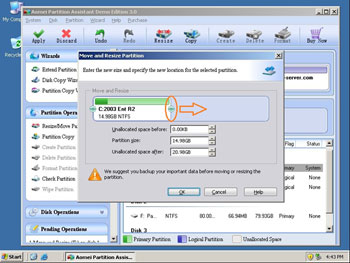 Click "Apply" to proceed, done.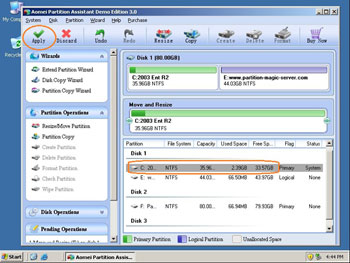 Now you have a "new" Server that can be used for a long time again.
How to allocate free space from any data partition and add to C drive?
For enterprise users, Unlimited Edition allows unlimited usage within your company to save time and money.
Related Articles