Easy Step to Extend System Partition on Windows Server 2016
Finding a way to extend system volume in Windows Server 2016? After reading this article, you'll know the easiest solution to extend system partition for Server 2016 without data loss.
About System partition
In old Windows PC and server Operating System, System partition is the one you install Windows to (usually C). In Windows Server 2016, System partition is not C drive but the System Reserved partition.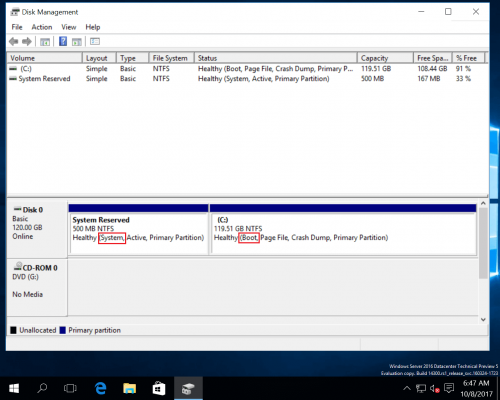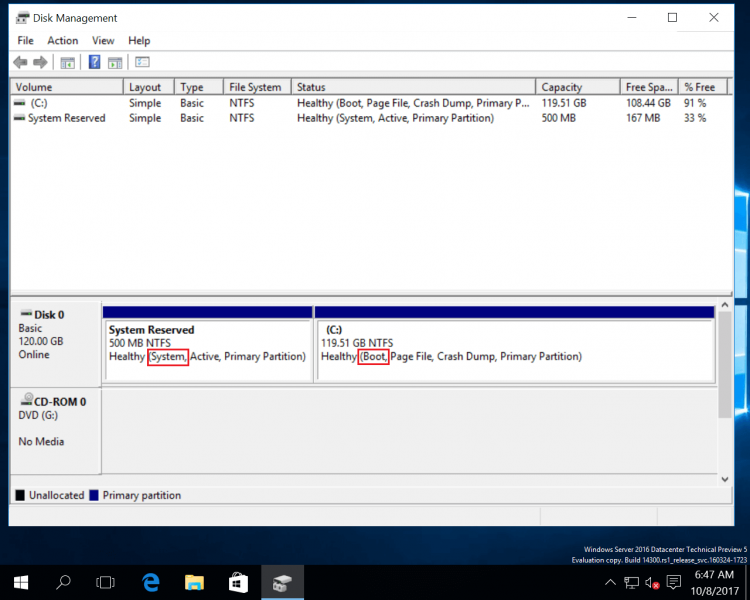 System partition is the primary partition to boot Windows. Boot partition is where Windows Operating System files located. I think "System Partition" from most of the people is C drive. If you want to extend System Reserved partition, the steps are similar.
Low disk space in System partition
The most common issue on a Windows Server is lack of free space in system partition. After running the server for a period of time, the system C drive is running out of space, so there is not enough free space to install Windows Updates or applications. If C drive becomes full, this server is very likely reboot unexpectedly or even crash. In this situation, the best way is extending system drive on Server 2016 with free space in this hard disk. Nobody likes to start from scratch.
However, many server administrators feedback the similar experience:
When they contact DELL or HP support about the low disk space issue and how to extend system volume, they got the answer – back up all data drives, delete them, extend system partition under Disk Management with built-in Extend Volume function, finally recreate data volumes and restore everything. Maybe they don't want to recommend the solution or tools from other companies and put themselves under risk, so they give such conservative solution. If you do like this, it may cost several days to complete this task. Actually, there is still risk of losing data when you delete disk partitions.
About extending partitions
In Windows Server 2016, Microsoft added Extend Volume function in Disk Management, so you may try to extend system volume with this tool. Right-click the volume you want to expand and select "Extend Volume", finish the Extend Volume Wizard.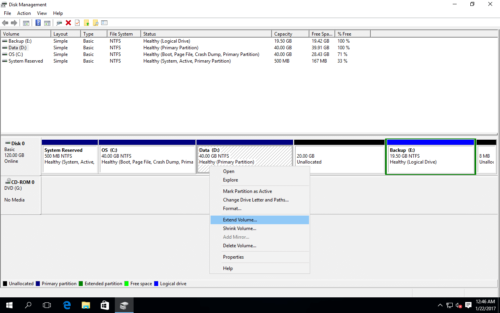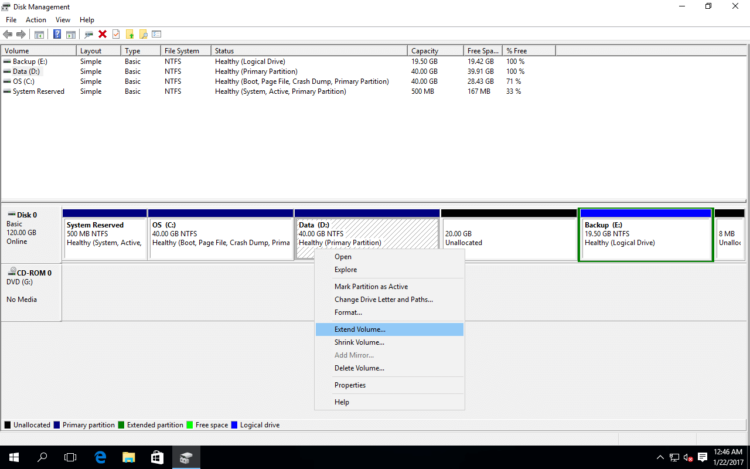 However, not every drive can be extended, when trying to extend the system C drive, "Extend Volume" is grayed out and disabled.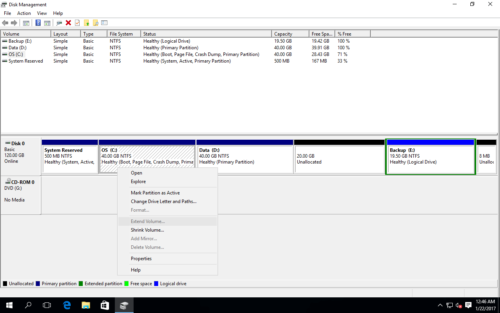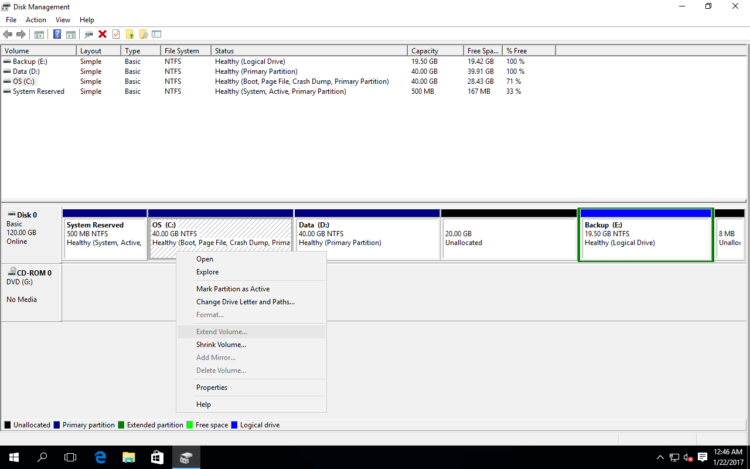 From the explanation of Microsoft, only when there is Unallocated space that is contiguous and at the right side, you can expand this drive with Extend Volume, so if you want to decrease D drive with "Shrink Volume" and expand C with Extend Volume, impossible in Disk Management. The only choice is 3rd-party program.
Pay attention before extending system drives
Two points you should know before extending disk partitions with 3rd party program:
To ensure 100% data safety, you'd better back up before any operations to a server.
Select a reliable partition software to complete this task. A bad program is very likely to cause system failure or data loss, it may cost much longer time to resize/extend disk partitions.
How to extend System partition in Windows Server 2016
It is very easy to resize/extend system volume for Windows 2016 server with 3rd-party software such as AOMEI Partition Assistant. As long as there is free space in the same hard disk, you can expand the system C drive, no matter where the free space is located. If you have shrank a drive to get Unallocated space in Server 2016 Disk Management, follow the steps below.
1. Extend System volume with Unallocated space
Step 1: Download and install the program, right click the Unallocated space and select "Merge Partitions" feature.
Step 2: In the pop-up window, click the check-box in front of C drive and then click OK to continue.
Step 3: Unallocated space added to C drive, press Apply on top left to proceed, done.
2. Extend System drive with unused space
As long as there is free space in any other drive, you can extend the system partition easily.
Step 1: Right click any data drive and select "Allocate Free Space" feature.
Step 2: In the pop-up window, type the amount of unused space to take out and then select C drive in the drop-down box.
Step 3: Unused space added to C drive, press Apply to proceed, done.
Video guide to extend system volume in Windows Server 2016
(Recommend full screen by clicking the square at bottom right of this video)
As you see, by several clicks you can extend system partition in Windows Server 2016. Operating System and all data keep intact, everything keeps the same after resizing partitions. All types of hardware RAID (such as RAID 0, 1, 5, 10), VMware and Hyper-V are all supported.