Partition Magic Server for Windows Server 2003 (x86 and x64)
Is there a version of Partition Magic 2003 server that runs on Windows Server 2003: Standard Edition?
I have windows 2003 Server. C Drive disk space very low but D drive 250GB free. I need Partition Magic for Server 2003, Pleas help me on this problem.
Im running an activated legal copy of Windows 2003 Enterprise. When I try to install PartitionMagic8 I get an error saying "The Setup has detected that you are running Windows NT/2000/.net server. The will now exit."
As Partition Magic is the first and most popluar partition software that is able to change partition size without losing data, many people search Partition Magic for Server 2003. Actually, Partition Magic from Symantec isn't compatible with Windows Server 2003 and 2008. On October, 2011, Symantec stated they no longer offer partition magic.
There are two choices for you in this situation: start from scratch or find alternative of partition magic for Server 2003.
Partition Magic Server 2003 alternative
As a highly-efficient, easy-to-use and multifunction server partition manager software, PMS Partition Magic Server is most popluar and widely used by many enterprises, universities, governments, security organizations, public associations etc.
Partition Magic Server is an all-in-one disk partition management toolkit to assist you optimize server disk space usage and improve server performance. Basic and advanced disk partition management features to resize partition, shrink partition, extend partition, split and merge partitions without losing data. Create, delete, format, hide/unhide, set Active partition, convert between Primary and Logical Partition, etc.
Supported Windows Server 2003 editions
Standard Edition, Enterprise Edition, Datacenter Edition, Web Edition.
Windows Server 2003 SP1, SP2 and R2.
Small Business Server 2003 all editions.
32 and 64-bit (x86 and x64).
Partition Windows 2003 with reliable partition magic server software
The security and stability are undoubtedly the most significant aspects for server computers since a server machine usually stores the most important classified and daily-used files. However, even a slight error on the server might directly lead to exposure of the whole network to the outside.
Based on the unique enhanced data protection technology and disk partition copy wizard built in this Partition Magic Server 2003, you don't need to worry about data safety, all files keep intact while repartitioning the server drives.
With its absolutely user-friendly interface, the functions of this magic server partition software for Windows Server 2003 are easy to get access to, no matter whether you've got experience in using Partition Magic or not.
Any operations you do on it will be listed in the "Pending Operations" column, no changes take place on your disk partitions before you click "Apply" on top left toolbar. What you do on this software before applying is just a simulator for you to see how the changes will affect your disk partitions. Any operations you do can be cancelled or modified.
Are you still looking for the perfect partition magic 2003 server? Partition Assistant Server edition is your best choice.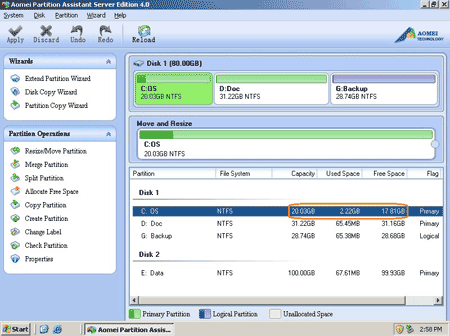 Download this partition magic 2003 server trial and check how it works magically to your server disk partitions.
Step-by-step guide