Hot resize Windows Server partition on 2003/2008/2000 Server without reboot.
Resize partition on Windows Server
Many computer users have encountered the problem that system C drive running out of space and Windows pop up a window with Low Disk Space alert. You have to fix this problem immediately, as it will cause many problem, such as:
System runs much slower, you cannot install any applications or update any longer, system crash if there is no free space.
Nowadays, many Server administrators know this problem can be solved by resizing partitions with Server partition software, such as Partition Magic Server. The main benefit of this tool is HOT Resize, which helps you extend NTFS system partition on Windows Server without reboot computer.
What is HOT resize?
What this means is the ability to change the size of a partition file system while it is in use. So you can extend this partition without reboot. Many professionals in technical forums think it is impossible, but in fact, with Partition Magic Server, you can hot resize NTFS partitions.
Hot Resize conditions
In Linux platform, you can hot resize EXT3 partition with resize2fs
In Windows platform, you can hot resize NTFS partition, no matter the Operating System is Windows 7/Vista/XP or Windows Server 2008/2003/2000.
No matter in Linux or Windows, HOT Resize works based on two conditions:
1. Only supports resizing if you are making the file system (partition) bigger.
2. You should keep the start sector of the partition fixed and extend it "rightwards".
Please note:
1. Partition Magic Server is Windows platform application, it cannot hot resize Linux.
2. NTFS partition is limited to system partition, you can hot resize any FAT Data Partition as well.
It doesn't matter if you use FAT as the system partition file system, it costs few minutes to reboot and complete resizing by Partition Magic Server.
How to resize Windows Server partitions without data loss?
Step 1, Launch Partition Assistant Server, you'll see all disks and partitions that connected to your Server and free space, used space and other properties of each partition.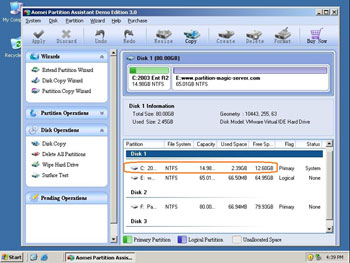 Right-click the data partition and select "Resize", in the pop-up window, drag the left border rightwards to shrink it.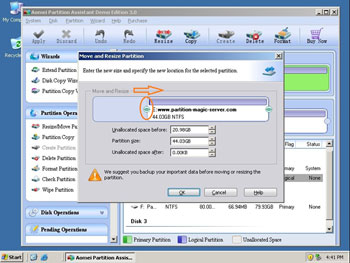 There will be some Unallocated space behind the system partition.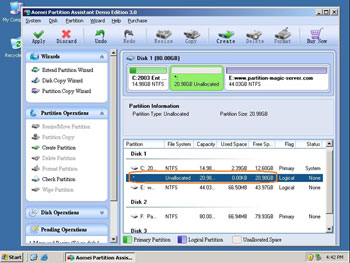 Step 2, Right-click the system partition and select "Resize", in the pop-up window, drag the right border rightwards to hold the Unallocated space.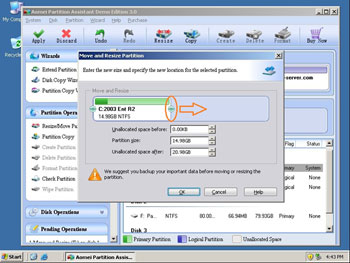 Click "Apply" to proceed, done.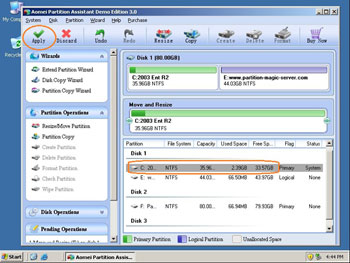 Now you have a "new" Server that can be used for a long time again.
How to allocate free space from any data partition and add to C drive without losing data?
For enterprise users, Unlimited Edition allows unlimited usage within your company to save time and money.
Related Articles