How to extend Windows 2003 Server drive without losing data, fast and easily?
Windows 2003 Server Low Disk Space
Many computer users have encountered the problem that system C drive running out of space and Windows pop up a window with Low Disk Space alert. This problem is very normal for Windows XP and Server 2003. When this problem occur, you have to fix this problem immediately, as it will cause many problem, such as:
1. System runs much slower.
2. You cannot install any applications or update any longer.
3. System may be crash if there is no free disk space.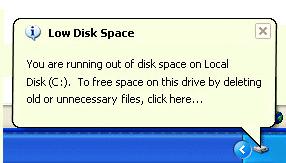 What will you do if you encountered this problem, rebuild the Server? No one wants to waste the whole happy weekend to start over again.
Furthermore, there is huge risk of losing data if you reinstalling the operating system. Then how to solve this problem fast and easily? Try Partition Magic Server. You just need to drag and move on its disk map to shrink a data partition and extend the system partition. There is no need to delete, format partitions or rebuild the Server. You'll know how easy it is to extend Windows 2003 Server drive.
Extend Windows 2003 Server drive with Partition Magic Server

As Partition Magic Server alternative, Partition Assistant Server is an ALL-IN-ONE and awards-winning Windows partition solution and reliable disk management toolkit. It performs needed hard disk partition maintenance, provides powerful data protection and disaster recovery, and minimizes server downtime to increase the efficiency of Windows-based system administration.
Some of its functions include: Resize, Merge, Copy, Create, Delete, Format, Hide and Unhide Partition and much more.
The most important feature of Partition Assistant Server to extend Windows 2003 Server drive is the Enhanced Data Protection technology, with which you can extend Window 2003 Server drive without data losing.
With Hot Resize feature, you can extend NTFS boot partition without rebooting computer. It is helpful for Windows Server users to avoid downtime.
How to extend Windows 2003 Server drive

In common situation, people use FAT or NTFS file system as their system partition. No matter your system partition is FAT or NTFS, the following steps are just the same. The only difference is that if your system partition is NTFS, you can extend NTFS system partition without rebooting.
Any operations you do on the Server will be listed in the "Operations Pending" column and no changes will take place on your partitions before you click "Apply". So if you are not sure about your operation, just close this partition manager Server and nothing will be changed.
Step 1, Launch Partition Magic Server, you'll see all disks and partitions that connected to your Server and free space, used space and other properties of each partition.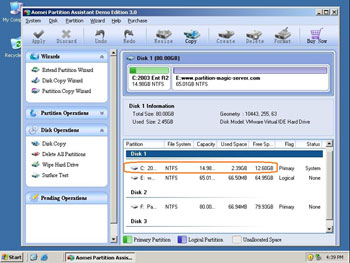 Right-click the data partition and select "Resize", in the pop-up window, drag the left border rightwards to shrink it.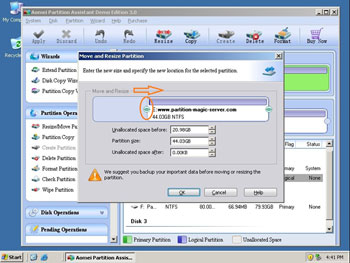 There will be some Unallocated space behind the system partition.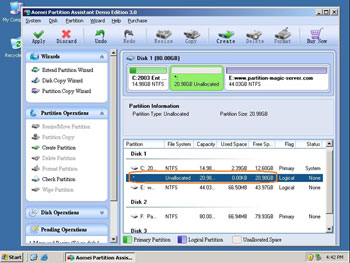 Step 2, Right-click the system partition and select "Resize", in the pop-up window, drag the right border rightwards to hold the Unallocated space.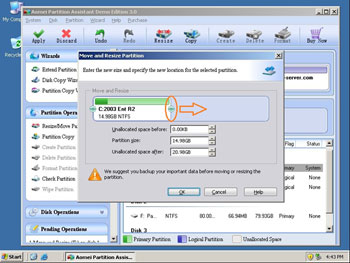 Click "Apply" to proceed, done.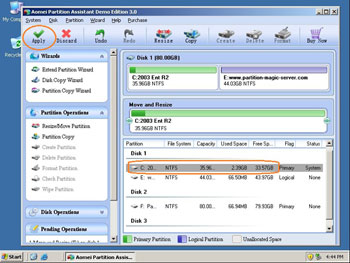 Now you have a "new" Server that can be used for a long time again.
How to allocate free space from any data partition and add to C drive?
For enterprise users, Unlimited Edition allows unlimited usage within your company to save time and money.
Related Articles