Best Server 2008 partition tool to resize/merge/extend partition without losing data.
Looking for Server 2008 partition tools? Need to resize or extend your Server 2008 partition without losing data? In this article I'll introduces several partition tools for Server 2008, with either of which you can resize, merge or extend partition without deleting, formatting partitions or rebuilding the Server.
Server 2008 partition tools - Partition Assistant Server
Partition Magic Server Edition is an ALL-IN-ONE Server disk management partition tool for Windows Server 2000, 2003, 2008 and XP, Vista, Windows 7. As Server Magic alternative, It performs needed hard disk partition maintenance, for example, resize partition, merge partition, etc. It also provides data protection and disaster recovery. The flawless hard disk management functions are brought together: Partition Manager, Disk & Partition Copy and Extend Partition Wizard.
Based on the unique Enhanced data protection technology, easy to use and other benefits, Partition Magic Server Edition is highly recommended as the best Server 2008 partition tool.
With Partition Assistant Server, you just need to drag and move on the disk map to shrink an existing data partition to get some Unallocated space, and then you can extend the sysem C drive. There is no need to delete or format partitions.
With this partition tool, you can resize partition, merge partitions, extend system partition without deleting or formatting, Hide, Create, Format, Convert, Set Active, etc. See full features and benefits...
How to repartition Server 2008 with this partition tools
Step 1, Launch Partition Magic Server, you'll see all disks and partitions that connected to your Server and free space, used space and other properties of each partition.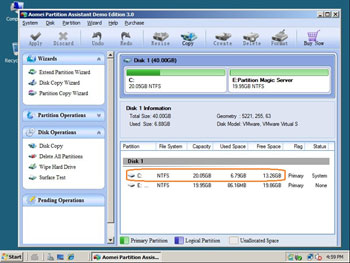 Right-click the data partition and select "Resize", in the pop-up window, drag the left border rightwards to shrink it.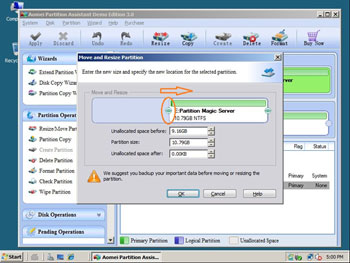 There will be some Unallocated space behind the system partition.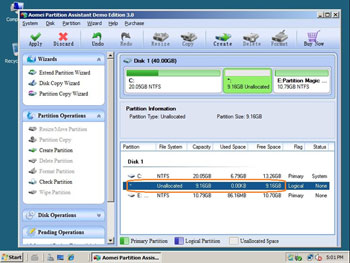 Step 2, Right-click C drive and select "Resize", in the pop-up window, drag the right border rightwards to hold the Unallocated space.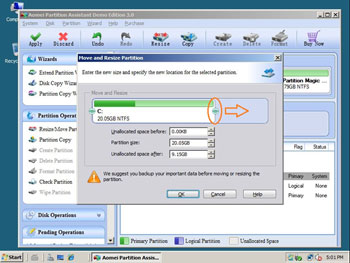 Click "Apply" to proceed, done. After several minutes, you'll have a "new" Server that can be used for a long time again.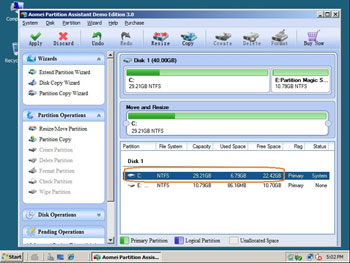 For enterprise users, Unlimited Edition allows unlimited usage within your company to save time and money.
How to allocate free space from any data partition and add to C drive?
Related Articles