"Rebuild MBR" feature will rewrite the Master Boot Record of the selected disk to fix some boot errors without destroying the disk partition table.
What is MBR
A master boot record (MBR) is a type of boot sector at the beginning of many types of computer mass storage. It is most common on disk drives large enough to be partitioned, hence it is not usually present on floppy disks or small thumb-drives.
The master boot record was popularized by the IBM Personal Computer. It consists of 512 bytes located at the first sector of a data storage device such as a hard disk. MBRs are usually placed on storage devices intended for use with IBM PC-compatible systems.
The MBR may contain one or more of:
A partition table describing the partitions of a storage device. In this context the boot sector may also be called partition sector.
Bootstrap code: instructions to identify the configured bootable partition then load and execute its volume boot record
Unique 32-bit disk signature, even though it may never be used by the operating system.
Because of the broad popularity of PC-compatible computers, the MBR format is widely used, to the extent of being supported by computer operating systems in addition to other pre-existing or cross-platform standards for bootstrapping and partitioning.
If the boot record was corrupted, you cannot boot the computer successfully and you'll receive the errors such as "Operating System not found" or "system missing".
How to rebuild MBR?
Supposing your computer unable to boot, on this condition, you need to create WinPE bootable CD with Partition Magic server on another computer. After that, you can start your computer and rebuild its MBR by using this Bootable CD.
There is another way to rebuild MBR when you can't boot your computer: Unplug your disk that need to be fixed and plug this disk to another computer, and run our program on this computer to rebuild MBR.
Launch the program and you'll see all connected disk partitions, right click the disk and select "Rebuild MBR".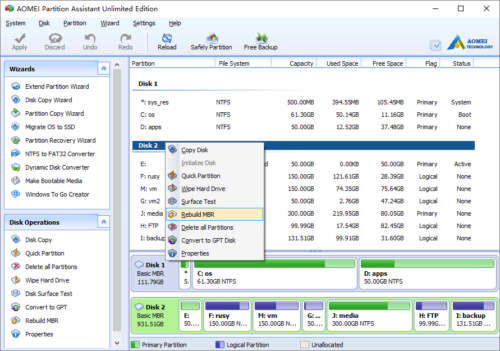 In the pop-up window, choose a proper MBR type according to your operating system.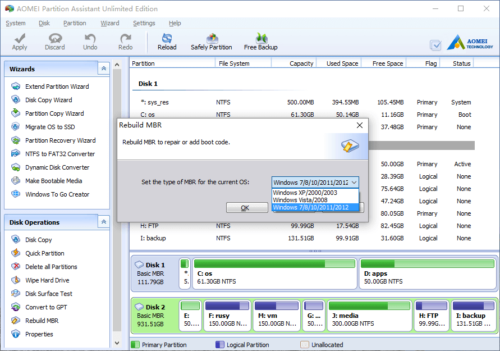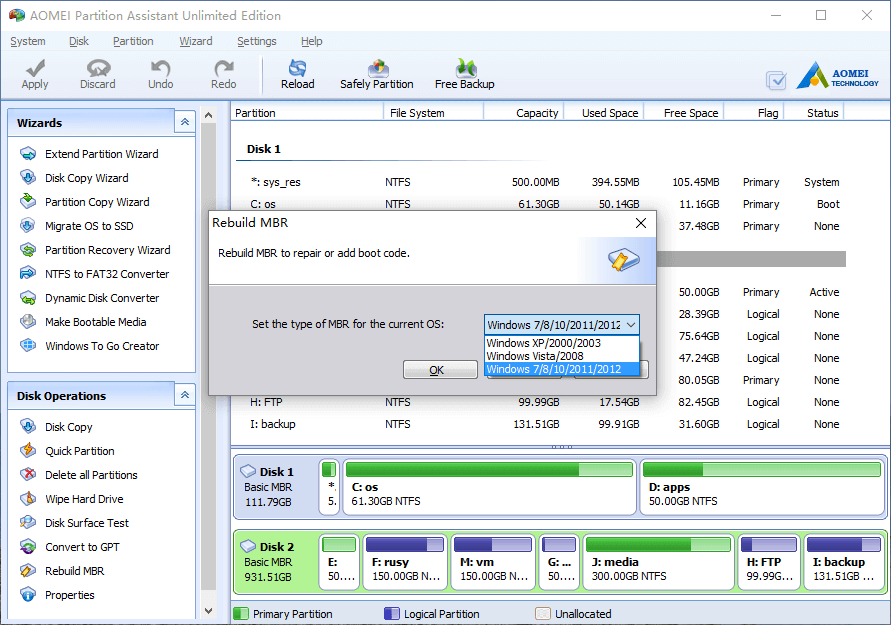 Click OK and back to the main window, press "Apply" button on top left to proceed.

Rebuild MBR can only solve problems such as MBR code has been damaged. It is unable to fix OS unbootable problem which is caused by corrupted bootable file or system file missing.
Rebuild MBR would not lead to any kind of data loss. However, improperly Rebuild MBR might cause your computer unbootable. So, you'd better learn more relevant knowledge before you execute Rebuild MBR operation.