How to partition Server 2008 drives safely and easily?
All the size of partitions on Windows 2008 Server are allocated while building the Server. However, things are changing and the scheduled size may not always meet your needs, for example:
- System partition is too big and waste much disk space.
- To better use the disk space, you need to create more partitions.
- System partition is running low and no free space left.
What will you do in these situations, start over? No one would like to waste their happy weekend to do this boring job. In this article, I'll introduce several ways to partition Server 2008 drive without deleting or reformatting.
How to partition Server 2008 with Diskpart Command Line?
1. Open the Start Menu and type cmd in the Start Menu search box. Then press Enter.
2. Type diskpart in the command prompt.
3. Type list volume and press Enter.
4. Type select volume * and press Enter.
5. Type shrink/extend desired = (* MB) and press Enter.
6. Type exit and press Enter and close it.
Extending a partition can be realized by Diskpart.exe only when there is unallocated space behind the partitions that needs to be expanded.
Diskpart command cannot move partition. In most cases, the unallocated space is not behind the partition you want to extend or there is just no unallocated space that you can use. Under this condition, you would need professional server partition manager software to help you resize Server 2008 partition.
How to partition Server 2008 under Disk Management?
Windows Server 2008 built-in Disk Management provides new features to manage disk partitions comparing with 2003 Server, which has ability to shrink volume and extend volume.
To shrink Windows Server 2008 volume, right click on the volume that you want to resize and select the option "Shrink Volume".
To extend Windows Server 2008 volume, right click on the volume to be extended and select "Extend Volume" and then specify the amount of space by which you want to extend the volume.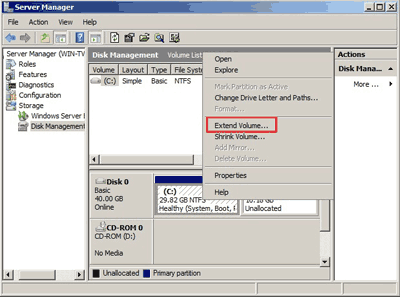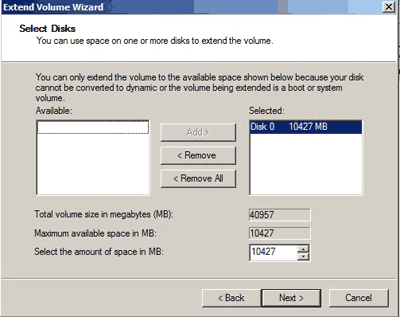 Actually, Windows Server 2008 Disk Management is interfaced from Diskpart.exe, so Disk Management's shortcomings also reflect the limitations of Diskpart command line.
With Server partition software, there are no such limitations, you just need to drag and move on the disk map to repartition.
How to partition Server 2008 drives with Partition Magic Server?
Partition Magic Server is a magic Server partition manager for Windows Server 2000, 2003, 2008, Small Business Server 2003, 2008, 2011 and Windows XP, Vista, 7 (32 and 64 bit).
It performs basic and advanced hard disk partition maintenance. This flawless hard disk management allows user to Resize, Merge, Shrink, Extend system and data partition. Create, Delete, Format, Copy, Hide, Set Active, Convert, Wipe partition, etc.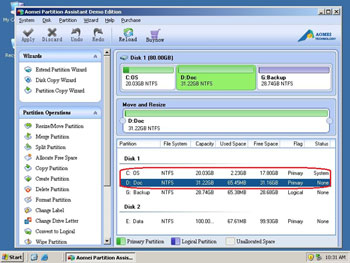 Partition Magic Server provides 3 ways to repartition drives.
Resize/Move - Shrink a data partition to get some free space and then extend the system partition.
Extend Partition Wizard - Shrink one or all data partitions and extend the system drive with step by step guide.
Allocate Free Space - One step to shrink a specified data partition and extend the system drive.
For enterprise users, Unlimited Edition allows unlimited usage within your company to save time and money.
Related Articles