Server 2008 partitioning software to fix low disk space problem.
All the size of partitions on Windows 2008 Server are carefully allocated while building the Server. However, things are changing and the scheduled size may not always meet your needs, the typical example is that system C drive running out of space and there is no free space in C: drive to install Windows updates or applications, so in this article, I'll introduce how to partition Server 2008 with partitioning software without losing data.
Partitioning Server 2008 under Disk Management?
Windows Server 2008 built-in Disk Management provides new features to manage disk partitions comparing with 2003 Server, which has ability to shrink volume and extend volume.
To shrink Windows Server 2008 volume, right click on the volume that you want to resize and select the option "Shrink Volume".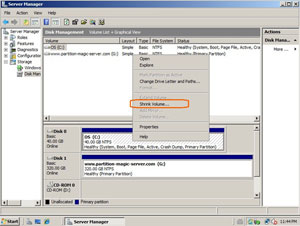 To extend Windows Server 2008 volume, right click on the volume to be extended and select "Extend Volume" and then specify the amount of space by which you want to extend the volume.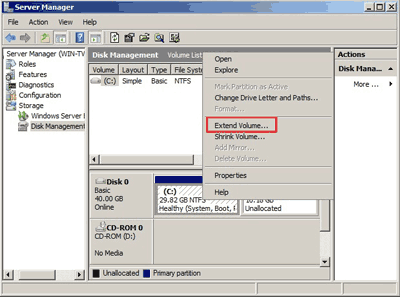 In fact, Windows Server 2008 Disk Management is interfaced from Diskpart commands, so Disk Management's shortcomings also reflect the limitations of Diskpart command line.
Extending a partition can be realized only when there is unallocated space behind the partitions that needs to be expanded.
Cannot move partition. In most cases, the unallocated space is not behind the partition you want to extend, so you cannot extend partition either by Diskpart or under Disk Management.
You need Server 2008 partitioning software, as there are no such limitations, you just need to drag and move on its disk map to shrink one partition, and then extend another with the Unallocated space.
Partitioning Server 2008 drives with Partition Magic Server?
Partition Magic Server is a magic Server partition manager for Windows Server 2000, 2003, 2008, Small Business Server 2003, 2008, 2011 and Windows XP, Vista, 7 (32 and 64 bit). It performs basic and advanced hard disk partition maintenance, allows user to Resize, Merge, Shrink, Extend partition. Create, Delete, Format, Copy, Hide, Set Active, Convert, Wipe partition, etc.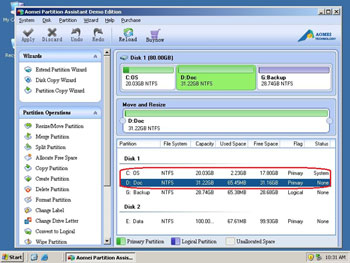 Partition Magic Server provides 3 ways partitioning 2008 Server
Resize/Move - Shrink a data partition to get some free space and then extend the system partition.
Extend Partition Wizard - Shrink one or all data partitions and extend the system drive with step by step guide.
Allocate Free Space - One step to shrink a specified data partition and extend the system drive.
Steps to partition Server 2008 with "Allocate Free Space" feature
Launch Partition Magic Server, you'll see all disks and partitions that connected your computer.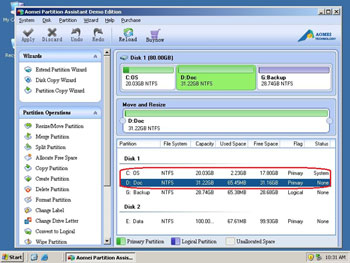 Select any data partition and click "Allocate Free Space" on left "Partitions Operations" panel. In the pop-up window, select C: drive in the drop-down box.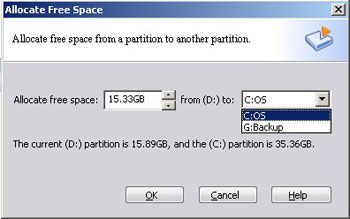 After clicking OK, the free space that allocated will be added to C drive without losing data, click Apply to proceed. Within several minutes, you have a "new" Windows 2008 Server again.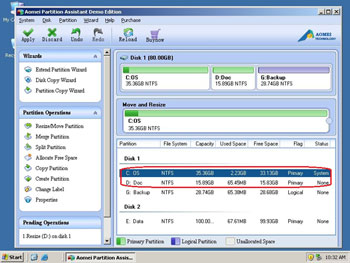 For enterprise users, Unlimited Edition allows unlimited usage within your company to save time and money.
Download this Windows Server 2008 partitioning software and check how easy it is to manage your disk partitions.
Related Articles